This information is purely fictional and is for use in the Coterie of the Crimson Shadow LARP based in the created city of San Andreas.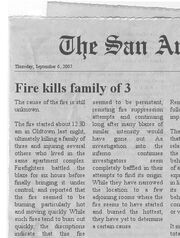 Evening News For 10/19/07
Top story: Man shot 17 times by police
"Police officials confirm that two officers were involved in a fatal shooting last night. The victim has been confirmed as Leonard Minha. Mr. Minha was a well-respected lawyer who had no history of any criminal behavior. His wife and 4 children are crying out for an explanation from the police. Sources who witnessed the shooting said one of the officers was shaking and kept repeating the words, "He kept coming and wouldn't stop," over and over. The department has given no further word on why the officers used lethal force.

Related stories
Drug related crimes on upsurge in spite of increased police prescence.
Wed Oct 17, 2007
"Port shuts down for unspecified repairs"
"Police 'SURGE' leads to numerous arrests. 50% more criminals caught within 10 mins or less of committing crime."
"Hospital denies misplacing any bodies"
"Mother of 4 found dead in alley, police believe killing took place elsewhere"
"Traffic accident causes fire which incinerates 3 people"
Friday Oct, 12
-Only two weeks after the initial announcement, it seems that Heimdall shutting down was merely an exagerated rumor that was based on the multi billion dollar company looking into other cities to open a branch office. Employees breatehed a sigh of relief when they found out not only is Heimdall not leaving, but is getting ready to begin a new multi million dollar project in San Andreas.
General News (posted 10-8-2007)
Sunday every news slot is filled with the major story of San Andreas. "Saturday Evening, three people were seen leaving the Hightown morgue and caused a scene. There were no records of them entering or registering as visitors, nor any security footage of their entrance. Moments later, the morgue was found missing 4 bodies and physically vandilized. The security footage of their departure was met with technical problems. Police belive an unknown nuber of other suspects to be the cause of the technical difficulties."
"Later that night, a drug raid led police to (Insert Dave's bar) in old town, where the leader of the Morgue senario was found and escaped the crime scene. In the storeroom, three terrorists fought police and were gunned down. The terrorists had a hostage who was questioned by police and then set free. The bodies of the terrorists were later stolen from the vehicle transporting them to the morgue."
"Police are issuing arrest warrents for these people for questioning and involvment in national security affairs." The TV screnes show police sketchs of Ragnar, Ysera and Jake while radio broadcasts urge people to visit the closest police station, post office or other government building see the sketches. "Auhorities are already offering up to a 10,000 dollar reward for information on these individuals and or their locations."
Front Page News for Friday October 5th
San Andreas is publicly acknowleging the gay community with a New club devoted to the homosexual citizens. The Hard Rock Cafe will be closing it's doors this Saturday night as it's final day of business. The building was purchased by a company named Blue Oyster Inc. Their spokesman said that "..with the proximity of San Andreas to San Fransisco, it was only a matter of time before they branched out". He continued with a basic description of the bar to be built. "It's a fantasy concept club where the gay community can enjoy themselves in a rich and fun enviroment. Built around the Viking concept complete with horned helmets, and other regalia, the club's name is Thrice-Born." When questioned about the name he responded, "It sounded Viking like and has a relation that most homosexuals feel out of place or not quite male or female, thusly, "Thrice born." Plans to open are dated by November 16th to celebrate before Thanksgiving.
San Andreas Sentinal 9/27
-In shocking news, Heimdall Inc. the largest corportation in San Andreas has announced that it will be shutting down its headquarters in San Andreas and will be moving. Many are in fear of their futures now as this will cost thousands of jobs, and effect the local economy monumentally.
News 9/24
The San Andreas Sentinal
- Family of three murdered. Nobody knows exactly why this family was killed yet, but apparently a suspect broke in to a house, and killed a father, mother, and child before stealing quite a bit from the house. A neighbor said that they heard someone yelling "Viva La Rossa" late in the evening, but the police are staying tight lipped on wether or not that could have any connection. Apparently they do have a prime suspect in the case, although no names have been released.
-Child found dead in bedroom. In a night that already saw one family heinously murdered, a child was found beaten to death by parents who didnt hear a thing. The parents currently are being spoken with by the San Andreas PD as the investigation into how this innocent little girl died.
-Sharks drop to 1 - 2. The San Andreas Sharks, who filled us with such enthusiasm in the preseason dropped to 1 - 2 yesterday with a loss to the Baltimore Ravens. Their second year quarterback was benched in favor of the old veteran backup, who rallied the team and almost got them back in the game, but in the end it was too little, too late.
News 9/14
-After a heartbreaking loss on monday night football to the San Francisco 49ers, the San Andreas Sharks prepare to host the Seattle Seahawks this Sunday in an important division match up at Heimdall stadium.
-Rumors are that Heimdall Inc. has been talking with a real estate company as well as other local businesses and is preparing to invest in a multi million dollar project. An unidentified source from inside the company said they are planning on opening an entertainment district that would be like nothing San Andreas has seen before.
-The kid who was shot in the school gunfight has made it out of critical condition, and is expected to make a full recovery. His older brother, a 21 year old student at San Andreas University has been very vocal since the attack about how the police of San Andreas need to do a better job of dealing with gang bangers and criminal activity in San Andreas. He's even been so bold as to say it might be time for the citizens of the city to take action themselves against such criminals.
Top News 09/06/2007
News listed in the San Andreas Sentinal
-The San Andreas Sharks kick off the regular season with a home game this sunday at 1pm pacific time. Tickets are already sold out as the loyal fans get ready for a matchup with their long time rivals, the San Francisco 49ers!
-Fire kills family of 3. A bizarre fire, the cause of which is still unknown, happened in old town killing a family of three and injuring several others who lived in the apartment complex.
-Police on heightened alert. After recent carjackings and increased criminal activity the police are at a more heightened state then they have been in the past. There will be several checkpoints this weekend, so be sure to stay safe and not drink and drive. Call a cab!
- Teenager wounded in high school shooting. Daniel Parker was shot by fellow student Tyrone Williams during a conflict which is believed to have started out as a racial dispute. Tyrone Williams has been taken into custody, and Daniel Parker remains in the hospital in critical condition.
Top News 08/23/07
Lead in:Michael Vick:Is he going to be permanently suspended? Local Man Beaten to Death over Beer. House Fire kills 4, possible Arson.

A Local homeless man was beaten to death with a baseball bat this morning. Apparently there was an altercation over a frosty cold beer. The victim had just purchased the beverage when another man assaulted him. Police say they are looking into matters.

Michael Vick may be banned for football for life for his involvement in the dogfighting ring. Some of the more militant animal rights activists have begun passing a petition to change his punishment to being treated in the same manner as the dogs.

A family of four died last night when their house, at ((address in Hightown)) was engulfed in flame. The family was sleeping when the raging inferno reduced the house to rubble in 30 minutes. Firefighters believe due to the speed at which the fire proceeded that there was probably an arsonist involved
News Article August 20, 2007
SHAMROXXX HOTEL/CASINO NEW MEMBERSHIP PROGRAM
Starting tommorrow all guests can sleep a little bit easier. Tomorrow a New membership program will be started, that will help make every patrons stay just a little but easier, more enjoyable and SHAMROXXX safe. Every customer's room key will now be equiped with more information just a a swipe. Not only will you key let you into your room, but now you can store money on them, schedual reservations, and most importantly GET IN ANY PART OF THE BUILDING INCLUDING THE PARKING GARAGE AND SURROUNDING AREAS!!! Thats right no more worring about anything. First time patrons will be escorted to the help desk where, after they have supplied all of the required information, they will be givin their own key card! Also with this new revolution in technology the Casino will be closing its door to the public, only registerd guests can access any part of the estate including the casino! AND YOU KNOW WHAT THAT MEANS?!?!? better odds! Less people, better chances at you walking home with millions! Just like our 3 patrons last week!
SO COME ON DOWN TO SHAMROXXX AND TRY TO "GET LUCKY"
News 08/18/07
Lead in:Police spokespeople express concern over violence, Area night club hit third time by car.

Police believe that the upsurge in gang related shootings in the last week could signal a brewing gang war. "It always starts this way. We don't want them to fight, but it looks like it may happen anyway," one official was quoted as saying.

In an increasingly bizarre turn, the nightclub that was under construction has been hit by a third car. Police believe this to be a copy cat as details were different they say. Nearby residents are expressing opinions that they club's owners should shut down that site and move elsewhere.
News 8/17/07
Lead in: Innocent Victim Caught in Street Gang war. Area club hit twice in 2 days.

Sean O'dale, a 24 year old college student was found dead earlier today. Police believe he was an innocent victim caught in the crossfire between two rivals gangs. He leaves behind his parents, pillars of the their communities and a girlfriend. No funeral arrangements have been annouced at this time. Police spokespeople have stated they will investigate diligently to find Sean's killer.

The night club that was attacked previously has again been attacked. Apparently for the second time a van was driven into the nightclub entrance. The police believe that it may be some kind of retalatiation by a gang that was not paid off by the owners, but they have been unable to confirm this at this time.
Top Story 8/15/07
In what is believed to be gang-related violence, several bodies were found dumped next to the bridge connecting Hightown and Oldtown, on the Hightown side. All of the bodies were tenatively identified as members of Vodoo USA, one of the cities largest gangs. Police spokesman say that based on the positioning of the bodies that a message is being sent for Vodoo USA to stay in their own 'turf'.
On a related note, ((The giant casino formerly owned by Kyle whose name I can't remember)), paid out 3 one million dollar slot jackpots last night. The three winners, Claude Joubert, Annette Devereux, and Maxwell Collins all live within a few blocks of each other and they even work at the factory! Each of them was quoted as saying, "I was feeling just lucky tonight," as their reason for being in the casino.
August 12, 2007
Top Story on TV Lead in: DEA makes major drug bust at area casino "DEA officials are reporting that they have made quote "The Largest Drug Bust in San Andreas in the last 10 years". It all happened Saturday night when DEA agents raided the area's top casino. They found "a large amount" of cocaine, ready to be distributed to dealers in a shipping area at the casino. Members of the infamous Pachecki crime family were said to have been involved in the shipment of the cocaine to the casino. Currently the DEA has stated that it plans to bring charges against the owner of the casino whose whereabouts are unknown at this time. Expert lawyers have stated that if convicted, the owner could face 20+ years in prison."
Ad blocker interference detected!
Wikia is a free-to-use site that makes money from advertising. We have a modified experience for viewers using ad blockers

Wikia is not accessible if you've made further modifications. Remove the custom ad blocker rule(s) and the page will load as expected.