Infernape
(Infer)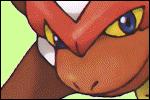 Desempenho
Lutas Oficiais
4
Vitórias
3
Derrotas
1
Aproveitamento
75%
Associado(a) à:
The Hell Kaisers
Infernape foi um lutador do Blast Battle. Participou de duas edições, sendo elas o Blast Battle Tag! e o Blast Battle IV.
História
Infernape é um dos fakes do campião do Blast Battle II, Shiny Eipam. As razões para que esse perfil fosse criado não foram divulgadas.
Blast Battle Tag!
Infernape fez parte da dupla "The Hells Kaisers", ao lado do também campeão Grovyle. Venceram a primeira luta contra a dupla Eletric The Fire por WO, e depois venceram os "Bakangas Foreva" por desistencia da dupla Na final, venceu Flakes e Glalie, e adquiriu o título do Blast Battle Tag!.
Blast Battle IV
Na primeira luta, Infernape enfrentou Salamence más perdeu por WO. Infernape concorria a uma vaga na repescagem, mas não foi selecionado. A partir de então não participou mais do Blast Battle. Red Game foi um grande defensor da vaga de Infernape na repescagem do Blast Battle IV.
Habilidades
Estilo de Luta
Rodapé
Ad blocker interference detected!
Wikia is a free-to-use site that makes money from advertising. We have a modified experience for viewers using ad blockers

Wikia is not accessible if you've made further modifications. Remove the custom ad blocker rule(s) and the page will load as expected.