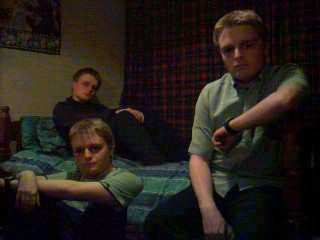 Insanity
Created By: Matthew John Latham
Genre: Drama/Mystery
Running Time: 8-10 minutes
Current Series: Ended
Number of Episodes: 6
Series Debut: December 2003
Series End: May 2004
Insanity was the Video Web Series side-project of Matthew John Latham that was created December 2003. It consisted of short video stories that told an over-arching story. Six episodes of a first series was completed, and there were plans for more to be done (in fact the seventh episode, also the second series premiere, was 80% completed). Those were scrapped and a movie was actually planned with scenes written and filmed (twenty-three minutes of footage was used) but the project was terminated at the videos were deleted.
Latham has expressed a desire to reboot the series in a series of one act episodes...
Premise
Characters
Matthew Latham
The Evil Twin
Megalix
Other Characters
Samuel
The Megalix Council
Mr. Draken
Episodes
The First Series
The Seventh Episode: Duplicates
The Movie
==The First Series==
Ad blocker interference detected!
Wikia is a free-to-use site that makes money from advertising. We have a modified experience for viewers using ad blockers

Wikia is not accessible if you've made further modifications. Remove the custom ad blocker rule(s) and the page will load as expected.