Instir is a country in NSC world, located on the northern continent. It has got 11 regions, and two rivers.
(Coming soon....)
NSC 6
The voting was completed, and here is the results:
| Artist | Song | Points | Rank |
| --- | --- | --- | --- |
| NOX | Szeretem | 6 | 1. |
| Rúzsa Magdi | Hip-Hop | 5 | 2. |
| Molnár Ferenc "Caramel" | Szállok a dallal | =3 | =3 |
| Rúzsa Magdi | Ederlezi | =3 | =3 |
AND THE FIRST PARTICIPATE FROM INSTIR IS:
NOX - SZERETEM!
IN THE SEMI-FINAL: Instir is the 5th!
And in the final, the debuting country, Instir in the 8th place! Tahnk you!
NSC 7
| Artist | Song | Points | Rank |
| --- | --- | --- | --- |
| Bonnie Tyler | Total eclipse of the Heart | 10 | 1. |
| Rúzsa Magdi és Lajkó Félix | Még azt mondják | 6 | 2. |
| Paul McCartney and Stevie Wonder | Ebony and ivory | 2 | 3. |
| Király Linda | Szerelem utolsó vérig | 0 | 4. |
So, the entry of Instir to NSC7, Spila is:

BONNIE TYLER - TOTAL ECLIPSE OF THE HEART!

VOTE FOR SHE IN THE FINAL!

( IN HUNGARIAN )
Instir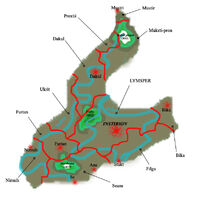 Instir egy középhatalom az északi kontinensen. Közigazgatásilag 11 részre oszlik, ebből az egyik rész egy független kisállam. Két folyója van, a Muksti és a Priksti. Három nagyobb heggyel rendelkezik.
Történelem
Instir a harmadik neve ennek a területnek. Először B.I.T.C.H., majd Reignland volt.

Az őskorban Instir területe lakott volt, erről tanúskodik több lelet is. Az instiri emberek nagyon fejlettek voltak, mivel több, mint 1200 hétköznapi tárgyat is feltaláltak. A homo sapiens instirin zenekedvelő is volt. Az 1200 találmány közül 145 hangszer volt.
Több százezer év eltelt, mire a homo sapiens instirin felegyenesedett, és önálló elmével rendelkezve általa igazgatott országot hozott létre a területen. Kezdetben blokkháborúk dúltak közöttük, mire végülis megválasztották az ország első vezetőjét, I. Pitron királyt. Uralkodása alatt egyezkedett a többi szomszédos néppel Instir területének megformálásáról, majd kis idő után megszületett a ma is ezekkel az adottágokkal rendelkező ország.
Mikor I. Pitron meghalt –gégerákban- kitört a polgárháború. A keletiek Zmojak grófot, míg a nyugatiak Ijilon bárót akarták a trónra ültetni. Véres csaták következtek, melynek végeredménye az volt, hogy a harcoló felek kimerültek, és visszavonultak, Ekkor a terület két részre szakadt.
A polgárháború után 24 évvel megjelent a színen Muksti Priksti. Ő leült tárgyalni a felekkel, majd megállapodás alapján egyesítették újra a területeket, és Muksti Priksti vezetésével megalakult a demokratikus ország, B.I.T.C.H.. Uralkodása alatt béke honolt az országban, csak néha dúlt fel kisebb területeket külsős hódítók kalandozása. Meghirdette a mérlegpolitikát: "Az ország igazgatása csak akkor kiegyensúlyozott, ha az igazgatási szervben 1:1 arányban találhatók meg a két oldal képviselői."Muksti 62 éven keresztül uralkodott.
Kétszáz éven keresztül sorra buktak meg kormányok, volt, amelyik csak egy-két napig élt. Majd áttörésként megjelent Thunderhammer Petrocelleee, aki egyetlen parlamenti felszólalásával megnyerte az egész népet, akik később megválasztották őt. Intézkedési között volt a szabad hajózás, a szabad adózás, és hogy Instir rádió- és televíziókiszolgálóját, az ITR-t felvetette az NSC-t kiszolgáló adók közé. Így Instir is csatlakozott a Nation Song Contesthez, és 6. szériában indulót is küldött.
Thunderhammer nyilatkozta: "Fontosnak tartom, hogy népem zeneileg művelt legyen, hiszen őseink is a művészetek élvonalában voltak. Az NSC óriási kihívás, és egyben óriási lehetőség is Instirnek, hogy megmutassa a világnak: tudunk összetartóak lenni a kétszázéves viszály után."
Igazgatás
Az ország 11 megyéből áll, ebből az egyik megye egy kisállam.
Megyék:
LYMSPER
Bika
Filga
Seans
Nirmih
Furtan
Ukrit
Dakul
Prextii
Muksti-pron
Fővárosa: Instirion (3 million people)
Lakosság: 35 million
Fizetőeszköz: muksti (IMU – instirian muksti)
Domborzat, földrajz
Három említésre méltó hegye van: a középmagas Praiko és Mocokvara, és a legnagyobb: Muksti-planen.
Praiko: a legendák szerint ez a hegy az őslakók egyik áldozóhegye volt. Itt ajánlották fel vérüket és értékeiket istenüknek.
Mocokvara: az egyik uralkodó, Mocok, ide építtette várát, mert attól félt, hogy népe ostromolni akarja a nagy adó miatt. E helyett a nép az elzárkózott Mocok helyett új vezetőt választott.
Muksti-planen: Mint neve is mutatja, a hős Mukstiról nevezték el. Instir és valószínűleg az Északi Kontinens legmagasabb hegye. 9869 méteres magasságával még a messzi Spilából is lehet látni tiszta időben.
Folyói is a hős Mukstiról lettek elnevezve. Egyik folyója, mely a Muksti-planenből ered a Muksti nevet kapta, míg a másik folyó, mely a tengerből ered, a Priksti nevet kapta. A Muksti Se közelében torkollik az óceánba, míg a Priksti Stuktnál továbbfut Salonaba.
Határai
Maccha-Bently , Phinechendza Tenger Adamsburg Salona Óceán Andromeda Romeria, Medina
Ad blocker interference detected!
Wikia is a free-to-use site that makes money from advertising. We have a modified experience for viewers using ad blockers

Wikia is not accessible if you've made further modifications. Remove the custom ad blocker rule(s) and the page will load as expected.