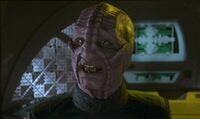 The Irapina are an androgynous humanoid species with an average life span of 400 years. The Irapina have green blood. Their body produces triglobulin from its zymuth gland. This substance has medical and aphrodisiac properties, and is used by a number of different species for those purposes. Some even forcefully "harvest" Irapina for their triglobulin.
Ad blocker interference detected!
Wikia is a free-to-use site that makes money from advertising. We have a modified experience for viewers using ad blockers

Wikia is not accessible if you've made further modifications. Remove the custom ad blocker rule(s) and the page will load as expected.