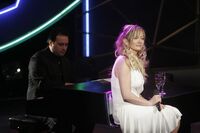 Irene Llano es una cantante y actriz chilena. Ex participante del programa Rojo VIP, como intérprete no ha podido encontrar un espacio en la escena musical nacional. En los 80 se dedicó a cantar temas en algunos programas televisivos y grabó un single, "Promesa de amor", que fue el tema central de una teleserie nacional.
Filmografía como actriz
"infieles" (2007)
" historias de eva" (2006)Adela
"historias de eva" (2007) Laura
"indigo" (2007)
"Porky te amo" (2006)
"Santiago City" (1997) Natalia
Valparaíso (1994)
"Champaña" (1994) Simone
"Fácil de amar" (1992) Sandra
"A la sombra del ángel" (1989)
Filmografía en Foronovelas
Ad blocker interference detected!
Wikia is a free-to-use site that makes money from advertising. We have a modified experience for viewers using ad blockers

Wikia is not accessible if you've made further modifications. Remove the custom ad blocker rule(s) and the page will load as expected.