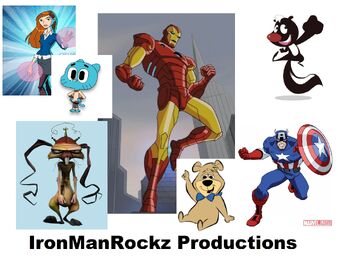 IronManRockz
LIST OF MOVIES/VIDEO GAMES/TV SHOWS SO FAR
A.T.O.M. Alpha Teens On Machines
Alienators: Evolution Continues
Archie's Weird Mysteries
Avatar: The Last Airbender
Atom Ant
Back at the Barnyard
Bambi
Ben 10 Ultimate Alien
Ben and Holly's Little Kingdom
Captain America
Cars
Cars 2
Dinosaur Train
El Tigre: The Adventures of Manny Rivera
Foster's Home for Imaginary Friends
Hello Kitty's Animation Theater
Hello Kitty's Furry Tale Theater
Hey There, It's Yogi Bear!
Iron Man
Invader Zim
Jimmy Neutron: Boy Genius (2001)
Johnny Test
Kong: the Animated Series
Kung Fu Panda 2
Kung Fu Panda: Legends of Awesomeness
Lilo & Stitch
Looney Tunes
Madagascar
Madagascar: Escape 2 Africa
Megas XLR
Megamind
Next Avengers: Heroes of Tomorrow
Regular Show
Rio (2011)
Robin Hood (1973)
Robots (2005)
SpongeBob SquarePants
Teen Titans
The Amazing World of Gumball
The Avengers: Earth's Mightiest Heroes
The Penguins of Madagascar
The Super Hero Squad Show
The Sword in the Stone
Yogi Bear
Yogi's Treasure Hunt
Yogi Bear (2010)
A LIST OF PARODIES
MY FAVORITE CHARACTERS:
Iron Man and Captain America (The Avengers: Earth's Mightiest Heroes)
Gwen Tennyson (Ben 10 Alien Force and Ultimate Alien) (Iron Man's Girlfriends)
Sid (Ice Age)
Finn (Adventure Time)
Yogi Bear
Scamper (Igor)
Skunk (Skunk Fu)
Blu (Rio 2011)
Beast Boy (Teen Titans)
Mr. Bumpy (Bump in the Night)
Tink (Bin Weevils)
Fanboy and Chum Chum
Timmy Turner
WALL-E
Yam Roll
Gassie (Alienators: Evolution Continues) (Iron Man's Pet)
Ad blocker interference detected!
Wikia is a free-to-use site that makes money from advertising. We have a modified experience for viewers using ad blockers

Wikia is not accessible if you've made further modifications. Remove the custom ad blocker rule(s) and the page will load as expected.