Isabella Garcia Shapiro is the tritagonist of Phineas and Ferb and The Land of Teletoon
Bio
Family: Vivian Garcia-Shapiro (mother)
Friends: Phineas Flynn (former boyfriend), Ferb Fletcher, Candace Flynn, Baljeet Tjinder, Buford Van Stomm , Stacy Hirano, Major Monogram, Carl Karl, Vanessa Doofenshmirtz, Irving, Meap
Enemies: Dr. Heinz Doofenshmirtz, Norm Mitch, Thaddeus and Thor, Suzy Johnson
Boyfriend: Kwame
Counterparts (girl version)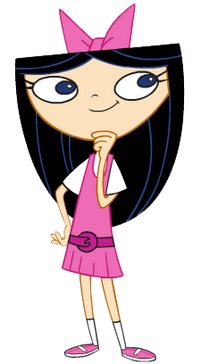 Counterparts (boy version)

 WARNING: You may add appropriate counterparts. But, do NOT delete any.
Thomas (Thomas the Tank Engine and Friends)
Ten Cents (TUGS/Salty's Lighthouse)
Theodore (Theodore Tugboat)
Mario (Super Mario Bros.)
Sonic the Hedgehog (Sonic the Hedgehog)
Orson Pig (Garfield and Friends)
Buster Bunny (Tiny Toon Adventures)
Bugs Bunny (Looney Tunes)
SpongeBob SquarePants (SpongeBob SquarePants)
Phineas Flynn (Phineas and Ferb)
Gumball Watterson (The Amazing World of Gumball)
Pikachu (Pokemon)
Kirby (Kirby)
Mega Man (Mega Man)
Fox McCloud (Star Fox)
Mickey Mouse (Mickey Mouse)
Felix-It Felix Jr. (Wreck-It Ralph)
Donkey Kong (Donkey Kong Country)
Jimmy Neutron (Jimmy Neutron)
Timmy Turner (The Fairly OddParents)
Winnie the Pooh (Winnie the Pooh)
Pac-Man (Pac-Man)
Chase Matthews (Zoey 101)
Trent (Total Drama)
Ad blocker interference detected!
Wikia is a free-to-use site that makes money from advertising. We have a modified experience for viewers using ad blockers

Wikia is not accessible if you've made further modifications. Remove the custom ad blocker rule(s) and the page will load as expected.