Capitale : Rome
Gouvernement : Confédération théocratique
Dirigeants : Pape Jean XXV
Population : 52 785 000
        Humains : 78,5%
        Elfes : 4%
        Nains : 4%
        Orks : 11%
        Trolls : 2%
        Autres : 0,5%

Revenu par habitant ¥ : 20 400
Sans SIN : 34%
Population en dessous du seuil de pauvreté : 22%
Personnes affiliées à une Mégacorporation : 42%
Monnaie : 1 Euro (€) = 1 Nuyen (¥)

Education :
        Moins de douze ans : 25%
        BEPC : 45%
        Baccalauréat : 28%
        Doctorat : 8%

Principaux groupes ethniques :
        Italiens : 75%
        Siciliens : 10%
        Albanais : 5%
         : %
        Autres : 10%

Principaux langages :
        Italien : 77%
        Anglais : 10%
        Allemand : 10%
        Français : 5%

Principales religions :
        Catholique Romain : 87%
         : %
         : %
         : %
        Autres : 8%
        Aucune : 5%

[edit]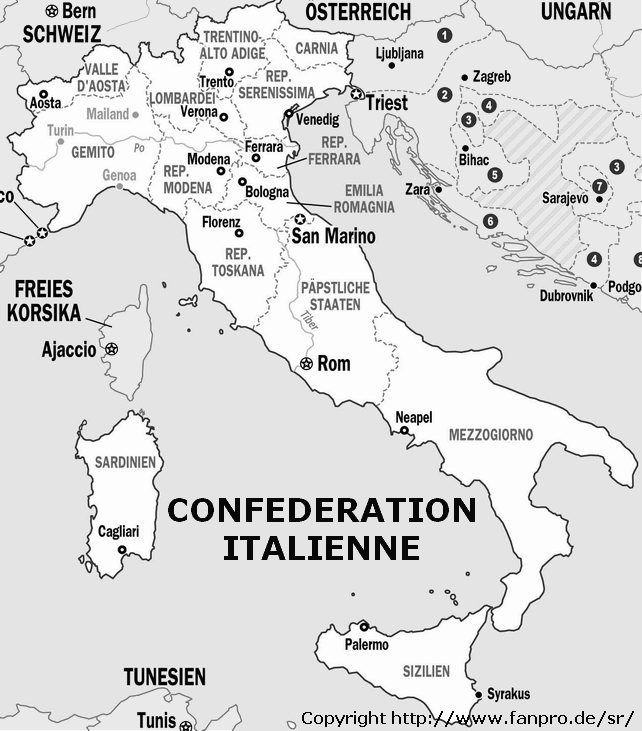 La Confédération Italienne ou Italie est un pays dont le territoire est au Sud de l'Europe. L'Italie s'étend des Alpes à la Méditerranée. Elle est bordée par la France, la Suisse, l'Autriche et la Slovénie.
Histoire
Histoire Politique
Evénements du XXIeme siècle
Politique
Etats Confédérés
Forces politiques
Relations avec les pays étrangers
Géographie
Economie
Références
Voir aussi
Liens externes
Ad blocker interference detected!
Wikia is a free-to-use site that makes money from advertising. We have a modified experience for viewers using ad blockers

Wikia is not accessible if you've made further modifications. Remove the custom ad blocker rule(s) and the page will load as expected.