Iwao Hazuki is an character from Shenmue. When Lan Di arrives in the dojo. Iwao and Lan Di's fight, He kills him to take the Dragon Mirror in the beginning in the game.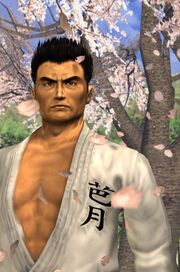 Counterpart
Hiro, Edward, Duke or BoCo (Thomas the Tank Engine and Friends)
Old Rusty or Hercules (TUGS)
Takuma Sakazaki (The King of Fighters)
Ad blocker interference detected!
Wikia is a free-to-use site that makes money from advertising. We have a modified experience for viewers using ad blockers

Wikia is not accessible if you've made further modifications. Remove the custom ad blocker rule(s) and the page will load as expected.