Translation : Religious painter from Mechelen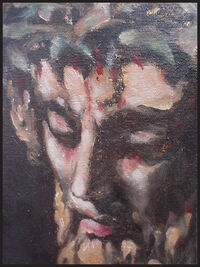 Jaak Horckmans werd geboren op 24 mei 1930 te Mechelen en zal er overlijden op 4 juni 2000. Jaak Horckmans is vooral bekend voor zijn religieuze schilderijen.
Jaak Horckmans was getrouwd met Teresa del Rincón, waardoor hij geregeld in Spanje vertoefde. Hier organiseerde Jaak Horemans geregeld tentoonstellingen.
Jaak Horckmans was gekend als "De schilder van Jezus".
Biografie
Jaak Horemans stamde uit een familie van kunstmeubelfabrikanten en beeldhouwers.
Na een opleiding aan het Koninklijke Muziekconservatorium en de Koninklijke Academie voor Beeldende Kunsten in Mechelen wordt hij componist, pianist en organist (een carrière die 35 jaar zal duren).
Na zijn muzikale carrière keert hij naar de schilderkunst. Zijn oevre is enorm en bevat religieuze-en bijbeltaferelen, landschappen, bloemen, kinderen, dieren, portretten, stillevens, naakten en miniaturen. Ook waagt hij zich aan experimentele onderwerpen.
Veel van zijn werken ontstaan in Spanje en Andalusië. Veel van deze werken blijven echter in privé-bezit, maar er is ook werk van zijn hand te vinden in Spanje en in de Verenigde Staten.
Een artikel over het leven en werk van Jaak Horckmans verscheen in het kunstmagazine MEK onder de titel "Jaak Horckmans, schilder van Jezus", geschreven door C. Thaens.
Erkenning
Jaak Horckmans was gezel van de Mérite Artistique Europeene / Europese Kunstverdienste (EKV / MAE). Tevens was hij werkend lid van de Mechelse Sint-Lucasgilde en van de Académie Internationale des Arts Contemporaine.
Ook was hij jarenlang vennoot van SABAM, de Belgische auteursvereniging, in de hoedanigheid van toondichter en beeldend kunstenaar.
In 1991 won hij de Prix Fondation Soeur Emanuelle voor zijn religieus werk "Piëta" tijdens een grote kunstmanifestatie in Antwerpen.
Guido Horckmans
Of er een (familiaal) verband bestaat tussen Jaak Horckmans en de Mechelse acteur Guido Horckmans is (nog) niet geweten.
Externe links
Ad blocker interference detected!
Wikia is a free-to-use site that makes money from advertising. We have a modified experience for viewers using ad blockers

Wikia is not accessible if you've made further modifications. Remove the custom ad blocker rule(s) and the page will load as expected.