Translation : Painter from Mechelen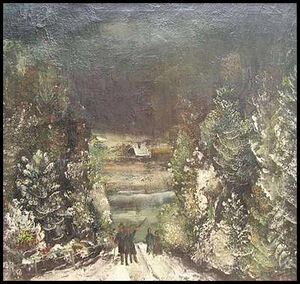 Jaak Schaepherders werd geboren te Mechelen in 1884 en overleed in 1956. Jaak Schaepherders was een kunstschilder / aquarellist en zoon van de Mechelse kunstschilder Rik Schaepherders.
Biografie
Jaak Schaepherders schilderde stadshoekjes, fluviale zichten, landschappen, bloemen, stillevens en stemmingsbeelden. De onderwerpen, die hij weergaf in een levendig kleurenpallet, vond hij meestal in zijn geboortestad.
Jaak Schaepherders stelde tentoon in restaurant Rivierenhof (1927) en in de zalen van het Koninklijke Kunstverbond (1933), beiden gelegen in Antwerpen.
In 1929 verzorgde Jaak Schaepherders het decor voor het toneelstuk "Een spel van liefde en haat" dat toen werd opgevoerd in de Mechelse stadsschouwburg. Dit stuk was van de hand van de Mechelaar Frans Dirickx. [1]
Externe links
Voetnoten
Ad blocker interference detected!
Wikia is a free-to-use site that makes money from advertising. We have a modified experience for viewers using ad blockers

Wikia is not accessible if you've made further modifications. Remove the custom ad blocker rule(s) and the page will load as expected.