JackRockz
LIST OF MOVIES/TV SHOWS/VIDEOGAMES I HAVE SO FAR: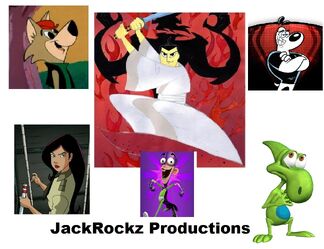 101 Dalmatians
6teen
Aliens in the Attic
Alienators: Evolution Continues
Angry Birds
Angry Birds Toons
Asterix and Cleopatra
Asterix the Gaul
Adventure Time
Atom Ant
Ben 10
Ben 10 Alien Force
Ben 10 Ultimate Alien
Big Wolf on Campus
Bin Weevils
Brother Bear
Brother Bear 2
Bump in the Night
Cars
Cars 2
Dinosaur
Dinosaur King
Dinosaur Train
Famous Five on the Case
Fanboy and Chum Chum
Flushed Away
Foster's Home for Imaginary Friends
Gnomeo and Juliet
Gogs
Gravity Falls
He-Man: Masters of the Universe (1983)
He-Man: Masters of the Universe (2002)
Hamtaro
Hercules
Hello Kitty
Hello Kitty and Friends
Hello Kitty's Animation Theater
Hello Kitty's Furry Tale Theater
Hello Kitty's Paradise
Herman and Katnip
Hokey Wolf
Ice Age
Ice Age 2
Ice Age 3
Igor
John Carter (2012)
Johnny Test
Kung Fu Panda
Kung Fu Panda 2
Looney Tunes
Martin Mystery
Megamind
Monsters Vs Aliens
Mucha Lucha!
Mummies Alive!
Open Season
Open Season 2
Open Season 3
Pet Alien
Phineas and Ferb
Planet 51
Pokemon
Prince of Persia: The Sands of Time (2010)
Pucca
Rio (2011)
Samurai Jack
Skunk Fu
Static Shock
Teen Titans
Teen Wolf (1985)
The Avengers: Earth's Mightiest Heroes
The Croods
The New Addams Family
The Super Hero Squad Show
T.U.F.F. Puppy
Up (2009)
WALL-E
Wolverine and the X-Men
X-Men
X-Men Evolution
Yam Roll
Yogi Bear

A LIST OF PARODIES:
ToonTubbies
Isabella in Wonderland (JackRockz Style)
Mordecai's Letter Party

MY FAVORITE CHARACTER:
Jack (Samurai Jack)
Lt. Lucy Mai (Alienators: Evolution Continues) (Jack's Girlfriends)
Captain America (The Avengers: Earth's Mightiest Heroes)
Mr. Bumpy (Bump in the Night)
Lem (Planet 51)
John Carter
Lurch (The New Addams Family)
Dudley Puppy (T.U.F.F. Puppy)
Tommy Dawkins (Big Wolf on Campus)
Skunk (Skunk Fu)
Java the Caveman (Martin Mystery)
Ding A Ling
Dinko (Pet Alien)
Keroppi (Jack's Pet)
Ad blocker interference detected!
Wikia is a free-to-use site that makes money from advertising. We have a modified experience for viewers using ad blockers

Wikia is not accessible if you've made further modifications. Remove the custom ad blocker rule(s) and the page will load as expected.