Jimmyandfriends' movie spoof of "Peter Pan"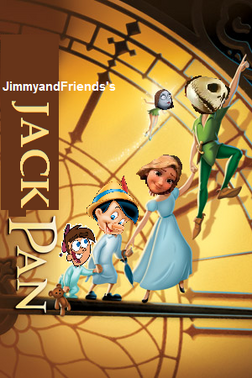 Cast:
Jack Skellington (The Nightmare Before Christmas) as Peter Pan
Sally (The Nightmare Before Christmas) as Tinker Bell
Rapunzel (Tangled) as Wendy Darling
Pinocchio as John Darling
Timmy Turner (The Fairly OddParents) as Michael Darling
Eduardo Perez/El Macho (Despicable Me 2) as Captain Hook
Dr. Nefario (Despicable Me) as Mr. Smee
Elsa (Frozen) as Tiger Lily
Dexter (Dexter's Laboratory) as Big Chief
Buttercup (The PowerPuff Girls) as Big Chief's wife
Ad blocker interference detected!
Wikia is a free-to-use site that makes money from advertising. We have a modified experience for viewers using ad blockers

Wikia is not accessible if you've made further modifications. Remove the custom ad blocker rule(s) and the page will load as expected.