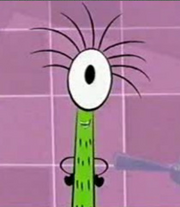 Jackie Khones
is an imaginary friend and a character from the cartoon
Foster's Home for Imaginary Friends
.
Usually throughout the series, he doesn't have many lines, nor play an important role, with the exceptions of Cheese A Go-Go, where he sued Madame Foster for eating a turkey sandhich, in Better Off Ed, where he was keeping Eduardo's secret from being let loose, he got Eduardo to make him a sandwich, so he would keep quiet, and in Jackie Khones and the Case of the Overdue Library Crook, where he worked as a Private Eye to help Mac catch a thief who borrowed an overdue library book under his name.
Counterparts
Ad blocker interference detected!
Wikia is a free-to-use site that makes money from advertising. We have a modified experience for viewers using ad blockers

Wikia is not accessible if you've made further modifications. Remove the custom ad blocker rule(s) and the page will load as expected.