Translation : English clokmaker in ancient Mechelen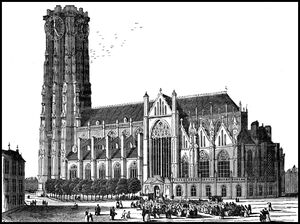 Jacob (ook Jacques of Jacobus) Wilmore (of Willmore) was, van geboorte, een Engelsman die in Mechelen woonde. Jacob Wilmore was een werktuigkundige en uurwerkmaker.
Biografie
Jacob Wilmore was een leerling van één van de bekendste horlogemakers aller tijden Thomas Thompion. [1]
Eind 1705 kreeg Jacob Wilmore, op vraag van het Mechelse magistraat, de opdracht om een uurwerkmodel aan de toren van de Mechelse Sint-Romboutskathedraal te hangen.
Het eerste model van een uurwerkplaat, opgehangen op 20 september 1706, werd door de magistraat echter als onvoldoende bevonden en er werd beslist om het geheel op een grotere schaal uit te voeren.
Voor de uiteindelijke uitvoering gebruikte Jacob Wilmore platte ijzeren profielen, die gesmeed werden om alzo een cirkel te verkrijgen. De grote buitencirkel van de uurwerkplaat had een diameter van bijna 12 meter, ieder cijfer had een hoogte van bijna 2 meter en de grote (en enige) wijzer had een lengte van 3,62 meter.
Tussen 15 augustus en 17 oktober 1707 werden de vier grote uurwerkplaten uiteindelijk aan de Sint-Romboutstoren gemonteerd, elk aan één zijde ervan. [2]
Vanaf dat ogenblik had Mechelen de grootste wijzerplaat ter wereld.
De kostprijs van dit alles werd toen geraamd op tienduizend franken. De Mechelse burgers waren heel erg opgezet met het geleverde werk, waardoor de Mechelse gemeenteraad Jacob Wilmore beloonde met een pensioen van tweehonderd florinten, en dat gedurende een periode van veertien jaar. [3]
Verslag van de feiten
Boeken
De naam van Jacob Wilmore duikt op in het boek "Mechelen, zijn Sint-Romboutstoren en zijn beiaard" van Frans Vermoortel (pag. 51). [4]
Externe links
Filmlink
1


01:10

Torenuurwerk Sint-Romboutstoren Mechelen


Mechelen - Torenuurwerk Sint-Romboutstoren
2


00:16

Sint-Romboutstoren Bewegende uurwijzer


Sint-Romboutstoren - Filmfragment van voor 1914 met bewegende uurwijzer
Voetnoten
Ad blocker interference detected!
Wikia is a free-to-use site that makes money from advertising. We have a modified experience for viewers using ad blockers

Wikia is not accessible if you've made further modifications. Remove the custom ad blocker rule(s) and the page will load as expected.