Translation : Soccer trainer from Mechelen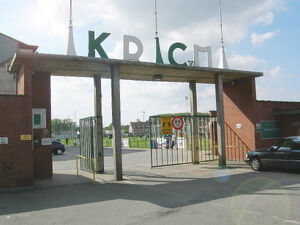 Jan Dogaer werd geboren te Mechelen op 14 maart 1887 en overleed te Mechelen op 21 januari 1970. Jan Dogaer was een voetbalspeler en trainer bij KRC Mechelen.
Biografie
Jan Dogaer was een sportman in hart en nieren. Na een carrière als actief worstelaar ging zijn belangstelling uit naar de nieuw opkomende sport : voetbal.
In 1906 werd hij lid van Racing, waar hij begon als verzorger voor de lagere elftallen. Na promotie tot verzorger van het eerste elftal werd Jan Dogaer, in 1912, opgenomen in het bestuur van de voetbalclub. Samen met De Nola en Jan Warans vervingen ze de heren A. Dousedan, F. Vankesbeeck, Van Aerden en Geets. [1]
Tijdens de Eerste Wereldoorlog zat het gezin Dogaer in Engeland (Manchester). Hier werd Jan's jongere broer Frans opgemerkt door Engelse voetbalscouts en trok zijn oudere broer Janus naar het front. Terwijl Frans, op 17-jarige leeftijd, mocht debuteren bij Aston Villa schopte Janus het tot speler in het regimentselftal van het 15e Linieregiment, het Nationaal Militair elftal en de Front Wanderers.
Na de oorlog keerde de familie Dogaer terug naar Mechelen waar Jan Dogaer de taak van trainer opnam. Deze taak voerde hij uit van 1919 tot 1956, waarna Richard Gedopt deze taak op zich nam. [2]
Na de Tweede Wereldoorlog werd Jan Dogaer Algemeen Voorzitter van KRC Mechelen. In die periode (1945 tot 1955) behoorde Racing tot de Belgische voetbalelite. Jan Dogaer bleef voorzitter tot 1965.
In de finale voor de Beker van België in het Heizelstadion tussen Racing Mechelen en Standaard CL op 6 juni 1954 trad Jan Dogaer op als coach. Alhoewel Jozef Mannaerts, in de 30ste minuut, een goal maakte voor Racing, verloor de ploeg de finale met 3 tegen 1. [3]
Op 22 januari 1970 werd de ontvangsthal van het Oscar Vankesbeeckstadion omgevormd tot een prachtige rouwkapel. Jan Dogaer was, de dag ervoor, overleden.
Supportersclub
In september 1968 werd de 4de supportersclub van Racing opgericht met de naam "Jan Dogaer". Deze club telde toen een 67-tal leden en was gelegen in Lokaal "Bij Hans Bonnen" aan de Antwerpsesteenweg in Mechelen. In die periode kende Racing nog een 3-tal andere supportersclubs, waaronder "Hoger Streven", "Oscar Vankesbeeck" en "Bruin Kruis". [4]
Trivia
Jan Dogaer werd ook wel "Père Pijp" genoemd.
Op de zijgevel van het hoekhuis aan de Frederik de Merodestraat 20 en Varkensstraat in Mechelen is de naam van Jan Dogaer terug te vinden op een bouwsteen. [5]
Externe links
Voetnoten
Ad blocker interference detected!
Wikia is a free-to-use site that makes money from advertising. We have a modified experience for viewers using ad blockers

Wikia is not accessible if you've made further modifications. Remove the custom ad blocker rule(s) and the page will load as expected.