Translation : Story of a private carillon from Mechelen
Jan Donnes werd geboren op 14 mei 1902 in Mechelen en overleed te Keerbergen op 5 juni 1979. Jan Donnes was beiaardier van opleiding.
Geschiedenis
Jan Donnes studeerde aan de Mechelse beiaardschool, waar hij in 1926 afstudeerde met grote onderscheiding. Tijdens zijn studies had Jan Donnes, in 1923, de Leuvense Sint-Geertruibeiaard in de Leuvense Sint-Geertruikerk op eigen kosten gerestaureerd.
Als zoon van rijke ouders bestelde Jan Donnes in 1925 een beiaard voor privé-gebruik bij de Doornikse klokkengieter Marcel Michiels Jr. Deze beiaard bevatte een 40-tal klokken en elke klok droeg, naast de naam van de gieter, ook de naam van de eigenaar.
Na een tijdje besloot Jan Donnes om zijn beiaard enkel als hobby te gebruiken en startte een kistenmakerij voor het verpakken van groenten in de buurt van de Zandpoortvest. De beiaard werd in de kistenmakerij opgesteld en Jan Donnes bouwde er het tractuur en klavier.
In 1929 verbleef de beiaard van Jan Donnes een tijdje in de toren van de abdij van Grimbergen, omwille van plaatselijke festiviteiten. Jef Denyn, Staf Nees en Jan Donnes speelden er in totaal 6 concerten. [1]
In 1930 was de beiaard ondergebracht in het deel "Oud België" van de Wereldtentoonstelling in Antwerpen en in 1938 sierde de beiaard de grote beiaardfeesten in Mechelen op de binnenkoer van het stadhuis.
De beiaard van Jan Donnes was voorzien om het landgoed Donnes in Kapelle-op-den-Bos te sieren, doch kwam terecht op het nieuwe familiedomein van kasteel Geerdegem aan de Zemstbaan in Mechelen (Domein van Grisar). Hier werd een speciaal torentje gebouwd om het instrument te huisvesten en bleef de beiaard hangen tot 1969. Nadien werd de beiaard ontmanteld en verhuisde het naar de nieuwe woning van Jan Donnes in Keerbergen.
In 1992 werd de beiaard verkocht aan de Franse klokkengieter François Garnier die het instrument opstelde in de abdij van Fontecaude (departement Hérault) en in 1995 doorverkocht aan de gemeente Magalas. [2] De beiaard bevindt zich langs de westgevel van het Musée de l'Espace Vins et Campanes aan de Avenue de Béziers.
Beeldbank
Filmlink
1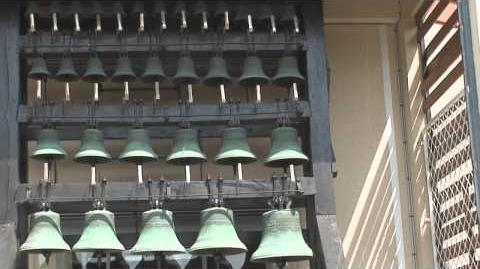 Carillon du musée Vin et Campanes de Magalas
Externe links
Voetnoten
Ad blocker interference detected!
Wikia is a free-to-use site that makes money from advertising. We have a modified experience for viewers using ad blockers

Wikia is not accessible if you've made further modifications. Remove the custom ad blocker rule(s) and the page will load as expected.