Translation : Sculptor and architect from Mechelen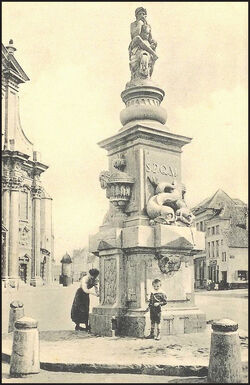 Jan Frans Langhemans werd geboren te Mechelen op 18 maart 1661 en overleed er in 1720. Hij was een beeldhouwer en architect.
Biografie
Frans Langhemans was een leerling van Lucas Fayd'herbe [1] en van hem leerde Frans Langhmans het pittoreske realisme, dat Lucas Fayd'herbe had opgestoken toen deze leerling was bij Peter Paul Rubens [2].
Frans Langhemans werkte in Londen een tijdje samen met de Mechelse beeldhouwer Jan van der Steen, doch hij keerde terug naar Vlaanderen en werd lid van de Mechelse Gilde. Zijn meest uitgesproken beeldhouwwerken waren degene die hij uitvoerde voor de Sint-Romboutskathedraal in Mechelen.
Oeuvre
Eén van zijn vroegste werken was een natuurgetrouw stenen beeld van de heilige Libertus voor het monument van Amatus (de) Coriache, vicaris-generaal van het Mechelse aartsbisdom (1680). Ook een stenen beeld uit 1701 van Maria Magdalena, die dramatisch gesticuleert, bezit eenzelfde natuurgetrouwheid, net zoals een monument aan Jan Baptiste en Bernard Alexander van der Zype.
Anders ging Jan Frans Langhemans te werk aan een beeld, in eik, van de "Maagd der Overwinning" uit 1680, die hij beeldhouwde voor de Broeders van Liefde uit de abdij van Kapellen, bij Antwerpen, dat een meer klassieke weergave bevatte. Deze stijl van werken hield Jan Frans Langhemans aan vanaf het jaar 1700.
Rond 1690 werkt Frans Langhemans samen met Jan Frans Boeckstuyns en Adam Frans van der Meulen aan het houten barokhoogaltaar in de Mechelse Onze-Lieve-Vrouw over de Dijlekerk [3].
In 1698-1699 werkte Frans Langhemans samen met Jan van der Steen aan het altaar van Onze-Lieve-Vrouw in de Sint-Romboutskathedraal in Mechelen en in 1714 bracht hij het interieurportaal van de noordelijke ingang tot een goed einde.
In opdracht van de stad Mechelen
Frans Langhemans ontving commissies van de stad Mechelen voor het beeldhouwen van een reuzenhoofd, dat gebruikt werd in een aantal stoeten.
Ook werkte Frans Langhemans aan een voorstelling van "De Goede Dief" voor de Fonteinbrug in Mechelen (1714-1715), een restauratie aan de gevel van het Paleis van de Grote Raad (1716) [4] en beeldhouwde hij een beeld van Neptunus (Vadderik), dat deel ging uitmaken van een fontein op de Mechelse Veemarkt (1718).
Volgens bronnen zou deze monumentale stadspomp met sokkel gebeeldhouwd zijn naar een ontwerp van de Mechelse beeldhouwer Willem-Egidius van Buscom Sr., doch deze leefde tussen 1758 en 1831 [5].
Buiten Mechelen
In 1700 was Jan Frans Langhemans verantwoordelijk voor het design van een nieuw gebouw aan de Grote Markt in Brussel en maakte hij werk van de monumenten in het mausoleum van Pierre Roose in de Sint-Michiel en Sint-Goedelekerk [6].
In 1701 werkte Jan Frans Langhemans aan het zwart-en witmarmeren hoofdaltaar van de Sint-Servaasbasiliek te Grimbergen [7]
Van 1701 tot 1706 was Jan Frans Langhemans werkzaam voor de keurvorst van Düsseldorf, Johan Willem van de Palts.
In 1708 en in 1712-1713 dook Frans Langhemans geregeld op in Keulen waar hij de zij-altaars maakt voor de daar aanwezige Augustijnenkerk en beeldhouwde hij het altaar van de parochiekerk van de heilige Servinus.
Externe links
Voetnoten
Ad blocker interference detected!
Wikia is a free-to-use site that makes money from advertising. We have a modified experience for viewers using ad blockers

Wikia is not accessible if you've made further modifications. Remove the custom ad blocker rule(s) and the page will load as expected.