Translation : Farmacist from Mechelen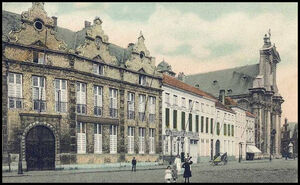 Jan Frans Taymans werd geboren te Lier op 16 augustus 1764 en overleed te Mechelen op 31 juli 1852. Jan Frans Taymans was een apotheker / scheikundige.
Biografie
In 1871 schreef Jan Frans Taymans zich in als leerling bij apotheker Peeters in Mechelen waar hij zijn examen behaalde. Als meester-apotheker in 1787 vestigde Jan Frans Taymans zich op de Veemarkt in Mechelen, naast het Sint-Romboutscollege.
In 1797 werd Jan Frans Taymans benoemd tot assessor van het plaatselijke vredegerecht en, in 1803, tot secretaris-schatbewaarder van de kerkfabriek van de parochie van Sint-Jan. In datzelfde jaar zetelde Jan Frans Taymans als lid in de "Commission de Santé".
In 1816 werd Jan Frans Taymans gemeenteraadslid, wat hij zou blijven tot 1824. In 1835 werd hij verkozen tot schepen van de stad Mechelen.
Als scheikundige had Jan Frans Taymans een aantal traktaten op zijn naam staan. Deze naslagwerken verschenen bij de Mechelse drukker P.J. Hanicq. De traktaten hielden de wetenschap in dat besmette lucht in hospitalen, riolen en verdachte plaatsen het best konden gezuiverd worden met het beroken met chloordampen.
Jan Frans Taymans bouwde voort op de gegevens van Louis-Bernard Guyton de Morveau wat hem tot één van de grote figuren maakte van de Mechelse farmacie. Zijn traktaten zorgden ervoor dat het werk van Guyton de Morveau in bredere kringen bekend raakte, wat de bevolking ten goede kwam. Ook de stad Mechelen ondersteunde en moedigde deze actie aan.
Externe links
Ad blocker interference detected!
Wikia is a free-to-use site that makes money from advertising. We have a modified experience for viewers using ad blockers

Wikia is not accessible if you've made further modifications. Remove the custom ad blocker rule(s) and the page will load as expected.