Translation : Artist from Mechelen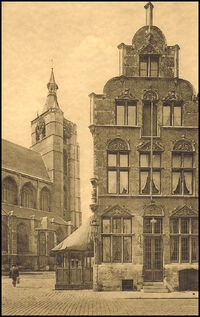 Jan Snellinck werd geboren te Mechelen rond 1548 en overleed te [(stad)|Antwerpen] op 1 oktober 1638. Jan Snellinck was een kunstschilder, tekenaar, tapijtontwerper en kunstverzamelaar. Jan Snellinck werkte voor kerken in Mechelen, Antwerpen, Oudenaarde, e.a. [1] en voor verschillende staatshoofden. Diens drieluik "Verrijzenis van Christus" uit 1601 hangt in de Mechelse Sint-Romboutskathedraal. [2]
Jan Snellinck was ook gekend onder de aliassen Hans Snellinck, Joan Snellinck, Hans Snellinckx, Jan Snellinckx, Hans Snellincx, Hans Snellinx, Jan Snellinx, Joan Snellinx. [3]
Leven
Jan Snellinck was de zoon van Daniel Snellinck, een marskramer en schilder, en Cornelia Verhulst, die verwant was met de familie Bruegel. Tussen 1531 en 1597 woonde de familie Snellinck in huis "Hemelrijck" in de Onze-Lieve-Vrouwestraat in Mechelen. [4]
Jan Snellinck leerde het métier van zijn vader en legde zich toe op waterverfschilderijen. Vader en zoon werkten geregeld voor Peter Ernst, stadshouder en graaf van Mansfeld, en voor de aartshertogen Albrecht en Isabella.
Jan Snellinck stond bekend voor zijn heroïsche schilderijen van veldslagen, die door o.a. Karel van Mander hoog werden aangeschreven. In de "Nieuwen almanak der konst-schilders" van Jan Gimblet uit 1788 werden de scènes als volgt beschreven : "Hy heeft verscheyde verslagen van het Nederland geschildert : men bemerkt dat hy een bezonder talent hadde om den rook en het poeder naer te volgen..." [5]
In 1574 trouwde Jan Snellinck met Helena de Jode, die de dochter was van de Antwerpse etser en drukwerkuitgever Gerard de Jode. In samenwerking met zijn schoonvader produceerde Jan Schellinck tekeningen voor diens drukwerken.
In 1586 hertrouwde Jan Snellinck een tweede maal, dit keer met Paulina Cuypers, die bevriend was met Anthony van Dyck's moeder Maria. [6]
In Antwerpen gaf les aan zijn zoon Andries Snellinck en aan de schilders Abraham Janssens en Adriaen Vranckx. [7]
Literatuur
"De groote schouwburg der Nederlantsche konstschilders en schilderessen" – Arnold Houbraken – 1718
"Aantekeningen bij de schilderijeninventaris van het sterfhuis van Jan Snellinck (1549-1638)" – Adolf Monballieu [8] - Jaarboek Antwerpen - 1976
"Koninklijk Museum voor Schone Kunsten Antwerpen. Catalogus Schilderkunst Departement Oude Meesters" – Antwerpen – 1988 [9]
Externe links
Voetnoten
Ad blocker interference detected!
Wikia is a free-to-use site that makes money from advertising. We have a modified experience for viewers using ad blockers

Wikia is not accessible if you've made further modifications. Remove the custom ad blocker rule(s) and the page will load as expected.