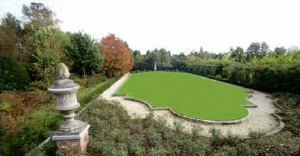 ---
Um grande gramado onde no primeiro dia do ano letivo, dezenas de alunos de todos os pontos são trazidos pelas Chaves de Portal espalhadas pelo mundo. Onde são recebidos por uma grande banda marcial de elfos domésticos tocando o hino da Noskort.
O Jardim fica atrás da ala norte da universidade na qual dá para uma escadaria que leva ao Grande Salão. No entanto, antes dos alunos entrarem para o tradicional banquete de almoço. Todos ouvem o pronunciamento dos Reitores e apresentação dos professores.
Página Inicial | Estrutura | Campus Externo

Ad blocker interference detected!
Wikia is a free-to-use site that makes money from advertising. We have a modified experience for viewers using ad blockers

Wikia is not accessible if you've made further modifications. Remove the custom ad blocker rule(s) and the page will load as expected.