: Voici la petite page d'histoire qui relate l'aventure de notre rénovation du chalet sur le rang du Moulin-Rouge. Jean, Suzanne, Raymond et Roseline
 : Automne 2007: Les plans
Les plans de l'architecte sont achevés ainsi que l'étude des sols. Voici les plans des rénovations:
Les plans ont été exécutés par Steeve Brûlé et approuvés par François Dusseault, architecte.
 : Décembre 2007 : Achat
Nous devenons officiellement propriétaires du chalet! L'aventure va commencer!
 : Février 2008 : Choix des couleurs extérieures
Enfin! Les perspectives et l'échelle ne sont pas exactes mais ça donne une idée du résultat final.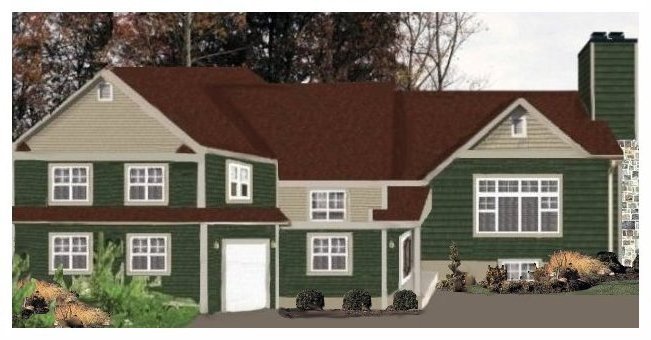 DESCRIPTION:
Recouvrement 1: déclin de vinyle VYTEK, modèle: Expression, couleur: Forest
Recouvrement 2: copolymère NOVIC, bardeau de cèdre, couleur: Sable Héritage
Toiture: bardeau d'asphalte MYSTIQUE, couleur bois rouge
Soffite, fascia et coins: en aluminium de couleur sable (couleur GENTEK)
Fenêtres: Vaillancourt, modèle blanc Bora avec moulure de 4 po. Integra de couleur sable (couleur Gentek, option carrelage barotin à mi-fenêtre de style guillotine + Georgien 5/8 blanc en haut
Porte d'entrée: Vitre-Art, blanche, modèle Paros 973, vitraux de couleur (noir et vert forêt)
Porte de garage DRAKKAR 9'X 8': acier blanc, modèle Nouvelle-France
 : Mars 2008: Neige
De la neige! On en a eu et on n'en veut plus! Le déneigement du toit: une dernière fois!
 : Avril 2008: Arbres coupés, soutènement du chalet, creusage du puits
 : 27 avril: Les premières pelletées de terre
 : 28 avril: Le coulage de la "fitting"
 : 30 avril: Le coulage des fondations
 : 1er mai: Les fondations
 : 4 mai: Drain et accès au puits
 : 11 mai: Tuyaux de chauffage
 : 19 mai: Fin de semaine de la Fête de la Reine
On a eu beaucoup d'aide et les travaux ont bien avancé!
 : 22 mai: Poutrelles, ouverture de la chambre existante
 : 24 mai: Encore des poutrelles, et plancher du 2e étage
 : 2 juin: Structure du 2e étage
 : 8 juin: Sheating
 : 14 juin: Camping, livraison des chevrons, hausse de cheminée, pose des premières fenêtres
 : 21 juin: Chevrons de la nouvelle partie
 : 24 juin: St-Jean-Baptiste
 : 29 juin: Ça avance!
 : 6 juillet: Plafond au-dessus de l'escalier, entrée de cour, vue de la rue
 : 21 juillet: Toiture, fascia, soffite et plafond
 : 4 août: Planchers de ciment, finition extérieure, isolation intérieure
Ad blocker interference detected!
Wikia is a free-to-use site that makes money from advertising. We have a modified experience for viewers using ad blockers

Wikia is not accessible if you've made further modifications. Remove the custom ad blocker rule(s) and the page will load as expected.