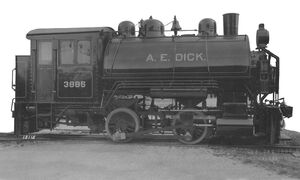 This engine was built by Vulcan Iron Works in 1928 for the A.E. Dick Construction company as number 3885. We believe that the company, located near Scranton, Pennsylvania, used the engine in a stone quarry to move cars of rock. The picture below shows a sister engine in action.
Number 85 was soon sold to the Jeddo-Highland Coal Company, where he stayed until the early 1960's. At that time it was purchased by Gordon Brinthrop and moved to Horseheads, New York.
John found and photographed the engine parked behind a diner there in 1993. It is the same size and configuration as Flagg Coal #75 .
Gramling Locomotive Works purchased the engine 2007.