Jeffy is a Character from SuperMarioLogan
Hes Rather Stupid.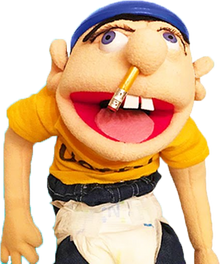 Counterparts
Thomas, Percy, Stanley or James (Thomas and Friends)
Buhdeuce or SwaySway (Breadwinners)
Eric Cartman, Kyle Broflovski, Kenny Mcormick, or Stan Marsh (South Park)
Spongebob Squarepants, Squidward Tentacles, Patrick Star, or Mr. Krabs (Spongebob SquarePants)
Big Bird, Bert, Grover, Elmo, Ernie, Cookie Monster, or Telly Monster (Sesame Street)
Stingy or Robbie Rotten (Lazytown)
Rabbit, Winnie The Pooh, Piglet, or Tigger (Winnie the Pooh)
Eddy, Edd, Kevin, or Ed (Ed Edd n Eddy)
Mr. Plotz, Yakko, Wakko, Runt, or The Brain (Animaniacs)
Homer Simpson, Moe Syzlak, Bart Simpson, Milhouse Van Houten, or Ralph Wiggum (The Simpsons)
Arnold, Gerald, Ernie, or Harold (Hey Arnold!)
Donald Duck, Goofy, Mickey Mouse, Pluto, or Scrooge Mcduck (Mickey Mouse)
Blooregard "Bloo" Q. Kazoo, Mac, or Eduardo (Foster's Home for Imaginary Friends)
Norval the Fish (Dr. Suess/The Wubbulous World of Dr. Suess)
Benny the Bull, Boots the Monkey, Map, or Tico the Squirrel (Dora)
Sammy (Oswald)
Parodies
Likes:
Ad blocker interference detected!
Wikia is a free-to-use site that makes money from advertising. We have a modified experience for viewers using ad blockers

Wikia is not accessible if you've made further modifications. Remove the custom ad blocker rule(s) and the page will load as expected.