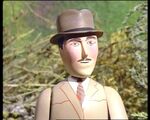 Jeremiah Jobling looks like Private Walker from Dad's Army. Whenever he goes anywhere, people comment on the resemblance. In the episode 'James and the Coaches', James is so surprised by the resemblance that he crashes. There are no survivors.

Parodies
Gallery
Ad blocker interference detected!
Wikia is a free-to-use site that makes money from advertising. We have a modified experience for viewers using ad blockers

Wikia is not accessible if you've made further modifications. Remove the custom ad blocker rule(s) and the page will load as expected.