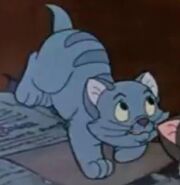 Jeremy (Oliver & Company)
is a kitten that appears with 
Oliver's siblings
in the beginning of
Oliver & Company
.

Gender: Boy Colour: Light Blue
He takes pizza with other kittens to Tiger and sung a song and making a game, or playing.
He is a kid who goes with Doraemon aka Merlin and lives in the castle with Sir Warren T. Rat aka Sir Ector in the movie.
[[ As one of Indians in Hannahontas
[[ As Kocoum in Berthahontas
[[ As one of Nobita's Classmates/Friends in Merlemon
[[ As one of Orphan Kids in The Rescuers (Mathemathics Style Version)
[[ As Fievel Mousekewitz in An American Story and its sequel
[[ As Bart Simpson in The Kitsons
[[ As Nibbs the Rabbit Lostboy in Tiger Pan
[[ As Alice in Jeremy in Wonderland
[[ As one of Fairies in The Big Cauldron
[[ As Oliver in Jeremy & Company
[[ As Dopey in Shizuka and the seven kittens
[[ As Dumbo in Jeremy (a.k.a Dumbo)
[[ As Bambi and Young Bambi in Jeremambi
[[ As Obby in Atlantis - Berlioz's Return and Atlantis - Oliver's Return
[[ As Mowgli in The Jeremy-Jungle Book
[[ As Koda in Brother Kitten
[[ As Pinocchio in Jeremynocchio
[[ As Doraemon in Jeremon
[[ As Dekisugi in Thumpermon
[[ As Hugo in The Kid of Notre Dame and The Kid of Notre Dame II
[[ As Quasimodo in The Jeremy of Notre Dame and The Jeremy of Notre Dame II
More on Jeremy
An American Story Movies/Series are:
His relative (Who he looks like):
See also
Ad blocker interference detected!
Wikia is a free-to-use site that makes money from advertising. We have a modified experience for viewers using ad blockers

Wikia is not accessible if you've made further modifications. Remove the custom ad blocker rule(s) and the page will load as expected.