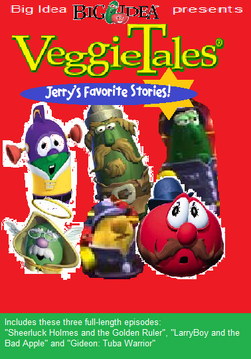 A sequel to the VHS tapes Bob and Larry's Favorite Stories Vols. 1, 2 and 3, Junior's Favorite Stories!, Larry's Favorite Stories! and Classics from the Crisper.
Episodes
Sheerluck Holmes and the Golden Ruler
Larry-Boy and the Bad Apple
Gideon Tuba Warrior
DVD Artwork
Release Date
Front Cover
Larry-Boy, Angel, Dr. Watson, Bill Trout, John Spud and Midianite
Back Cover
Sheerluck Holmes, Dr. Watson and Scooter
Bad Apple and Larry-Boy
Gideon and Angel
DVD Opening
Warning screen
God Made You Special teaser
The Pirates Who Don't Do Anything teaser
DVD Menu
Big Idea Why We Do What We Do
DVD Closing
Credits for "Sheerluck Holmes and the Golden Ruler"
Credits for "Larry-Boy and the Bad Apple"
Credits for "Gideon Tuba Warrior"
Big Idea logo
Moe and the Big Exit Trailer
Veggie Library promo
Gallery
Ad blocker interference detected!
Wikia is a free-to-use site that makes money from advertising. We have a modified experience for viewers using ad blockers

Wikia is not accessible if you've made further modifications. Remove the custom ad blocker rule(s) and the page will load as expected.