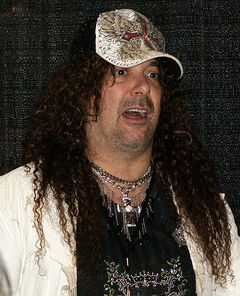 Jess Q. Harnell
(born December 23, 1963) was the voice of
Spyro
in
Spyro: A Hero's Tail
. He also voiced several
Baboons
in
The Legend of Spyro: A New Beginning
, Wakko Warner on
Animaniacs
, and Captain Hero on Drawn Together. He was preced as the voice of Spyro by
Tom Kenny
and suceeded by
Elijah Wood
.
Roles
A Hero's Tail-Spyro, Red
A New Beginning- Baboons
Animaniacs - Wakko Warner
Drawn Together - Captain Hero, Hulk, Bizarro Captain Hero, Megatron, Bill Cosby
Taz-Mania - Theme Song Narrator #1
The Looney Tunes Show (2011) - Tosh Gopher
Ad blocker interference detected!
Wikia is a free-to-use site that makes money from advertising. We have a modified experience for viewers using ad blockers

Wikia is not accessible if you've made further modifications. Remove the custom ad blocker rule(s) and the page will load as expected.