This is my page. He, he , he, all mine. And, the other trillions of people on the inter-web.
Why A Wonder Pig?
The reasoning is quite simple really. Pig's are cool. I was born in the year of the boar. Don't you want to see a pig in a cape? Thought so. If anyone else has any good reasons for this wiki being titled as it is please feel free to lend your opinion.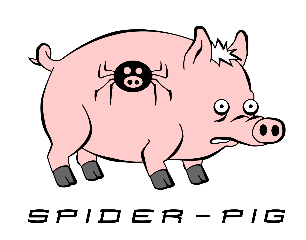 About Me
I am in my final semester here at SF State. It has been a long and arduous journey, but I am almost there. I have really taken a liking to this whole idea of new media. I think I just may keep it; maybe give it a new name like Lucky or Spot. I have big ideas, and I think with the help of all of the people I have met thus far and the things that I have learned I could possibly turn a few of them into realities. I am always up for a good conversation. I love learning other peoples perspectives, and seeing the world through different filters. Unless they are Dodger blue filters, in which case I might throw them on the ground. Okay, I take that back as I'm not one to go ballistic over a silly little rivalry. Go Giants!
Useful Resources Around Campus
For those of you in BECA please take advantage of CA 200 our fantastic editing lab. These computers are SWEET! We have all kinds of editing tools and the lab is open from 9 to 9 every day. Jen Vaughn runs the lab and also runs workshops on editing and various aspects of the lab once a week. I guess the reason I am mentioning this, even though we have class IN the room, is because I spent much of my education completely ignorant of the incredible resources sitting right in front of me. I would like to make sure that at the least, we are all aware of this valuable tool that is available to us.
The deli in the basement of the student union is incredible. Get the turkey bacon and jack toasted on sourdough. You may see god (Wiki, and SFSU would like to inform you that you may not see god also). Also in the student union is Rigoberta Menchu Hall. This is an awesome spot to study, have a quiet lunch break, zone out, or even take a nap in. There are four or five levels that go up that big pointy thing on the top of the building. One of my fellow classmates shares that sentiment.
My Blogs
I have a couple of blogs going. One is a fictional journal from the perspective of one of the survivors yet to be enslaved during the alien invasion of Jan. 17th 2008. He is on the run, trying to stay one step ahead of his planets mysterious invaders. So far he has just escaped the central library and is going to find a long distance CB Radio at the Radio Shack on Post. Check in to see what he must do to survive.
My second blog is dedicated to the game and the team I love. The San Francisco Giants. Pure, fun, baseball banter with a severely biased opinion. The season is just starting and it is an exciting rebuilding year for the Giants. Claudia and I may work on some sort of back and forth banter. This page is also minutely dedicated to my favorite player of all time Will "Neuschler" Clark. The San Diego Padres look like they will dominate the NL West in 2008.
That same classmate I mentioned before (who is an A's fan and is starting conversation because he can) would like to point out that the Giants are rebuilding in a strange way by giving the largely average Aaron Rowand a $60 million contract.
Ad blocker interference detected!
Wikia is a free-to-use site that makes money from advertising. We have a modified experience for viewers using ad blockers

Wikia is not accessible if you've made further modifications. Remove the custom ad blocker rule(s) and the page will load as expected.