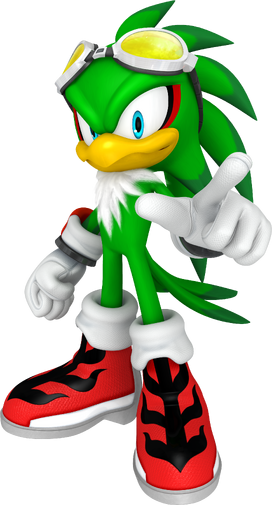 Jet the Hawk
is a character from
Sonic the Hedgehog
.
Counterparts (Do not edit or delete, but you can add)
Rawk Hawk, Boshi, or Larry "Cheatsy" Koopa (Super Mario Bros.)
Sidorak (Bionicle)
Baraka (Mortal Kombat)
Grumblemon (Digimon Frontier)
Yashiro or Billy Kane (King of Fighters)
Mortimer Mouse or the Phantom Blot (Mickey Mouse)
The Penguin (Batman)
The Brain (Animaniacs)
Ushio or Dartz (Yu-Gi-Oh)
Mr.Wink (Codename: Kids Next Door)
Blastmon or Tacticmon (Digimon Xros Wars)
Sergei Dragunov (Tekken)
Mummymon (Digimon Adventure 02)
Vulture (Spider Man)
Boot Hill Buzzard (Wild West COWboys of Moo Mesa)
Balrog (Street Fighter)
Chick Hicks or Acer (Cars)
Nute Gunray, Sebulba, or Bossk (Star Wars)
Huy (The Prince of Egypt)
Rito Revolto (Power Rangers)
Delete (Cyberchase)
Jet Vac, Hektore, or Fright Rider (Skylanders)
Brick McArthur or Justin (Total Drama)
Squint (Ice Age)
Ebirah, Zilla, Megalon, or Gabara (Godzilla)
Brad Buttowski(Kick Buttowski Suburan Daredevil)
Counterparts (Girl Version)
Suzy Johnson (Phineas and Ferb)
Taffyta Muttonfudge (Wreck-It Ralph)
Wendy O. Koopa (Mario)
Parodies
add more please
Ad blocker interference detected!
Wikia is a free-to-use site that makes money from advertising. We have a modified experience for viewers using ad blockers

Wikia is not accessible if you've made further modifications. Remove the custom ad blocker rule(s) and the page will load as expected.