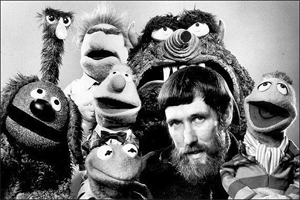 James Maury "Jim" Henson
(born September 24, 1936) is an American Muppeteer who is best known as the creator of the
Muppets
, he's the performer behind many of the troupe's famous Characters including Kermit the Frog, Ernie and Rowlf the Dog.
Early Years
James Maury Henson was born in Greenville, Missipippi in 1936, the younger of the two Boys. Ten years later, in 1946, Henson moved with his Family to Hyattsville, Maryland, a Suburb near Washington B.C..
Puppeter Credits
The Muppet Show:
Kermit the Frog
Dr. Teeth
Rowlf the Dog
Waldorf
The Swedish Chef
Link Hogthrob
Mahna Mahna
The Newsman
Sesame Street:
Ernie
Guy Smiley
Kermit the Frog
Bip Bipadotta (Mahna Mahna)
Granny Fanny Nesslerode
Little Chrissy (puppetry)
Thomas Twiddlebug
Captain Vegetable (1982)
Fraggle Rock:
Cantus the Ministril
Convincing John
Ad blocker interference detected!
Wikia is a free-to-use site that makes money from advertising. We have a modified experience for viewers using ad blockers

Wikia is not accessible if you've made further modifications. Remove the custom ad blocker rule(s) and the page will load as expected.