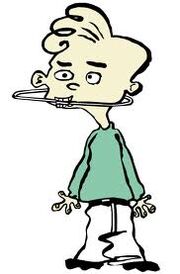 Jimmy is the accident-prone character on Ed, Edd, n Eddy. He is usually seen with Sarah.
Counterparts
Do NOT edit, but you can add.
Snuffy or Elmo (Sesame Street)
Gary the Snail or Monroe Rechid (SpongeBob SquarePants)
Cinnamon (Blue's Clues)
Baby Poof (The Fairly OddParents)
Irving Du Bois, Baljieet Tjinder, or Perry the Platypus (Phineas and Ferb)
Martin Prince, Ralph Wiggum, or Milhouse Van Houten (The Simpsons)
Cheese or Eduardo (Foster's Home for Imaginary Friends)
Dil Pickles, Howard DeVille, or Chuckie Finster (Rugrats)
Jamie Wilkerson or Stevie Kenarben (Malcolm in the Middle)
Clam or Samson (Camp Lazlo)
Goddard or Carl Wheezer (Jimmy Neutron)
Ad blocker interference detected!
Wikia is a free-to-use site that makes money from advertising. We have a modified experience for viewers using ad blockers

Wikia is not accessible if you've made further modifications. Remove the custom ad blocker rule(s) and the page will load as expected.