Jimmyandfriends's movie-spoofs of "Aladdin"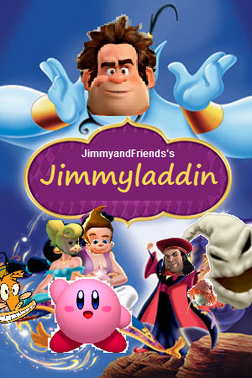 Cast:
Jimmy Neutron as Aladdin
Cindy Vortex (Jimmy Neutron) as Princess Jasmine
Wreck-It Ralph as Genie
Lord Farquad (Shrek) as Jafar
Boober Fraggle (Fraggle Rock) as Iago
Lazlo (Camp Lazlo) as Abu
Kirby as Magic Carpet
King Fergus (Brave) as The Sultan
Bagheera (The Jungle Book) as Rajah
Oogie Boogie (The Nightmare Before Christmas) as The Cave of Wonders
King Dedede (Kirby) as Razoul
Escargoon (Kirby), J. Worthington Foulfellow and Gideon (Pinocchio), Mandark (Dexter's Laboratory) and Randall Boggs (Monsters, Inc.) as Razoul's guards
Larry the Cucumber (VeggieTales) as Peddler
Lawrence (The Princess and the Frog) as Gazeem
Bob Parr/Mr. Incredible (The Incredibles) as Prince Achmed
Horton the Elephant (Horton Hears a Who!) as Omar; Melon Seller
Stromboli (Pinocchio) as Farouk; Apple Seller
Charles F. Muntz (Up) as Old Jafar
Raj (Camp Lazlo) as Elephant Abu
Bruce (Finding Nemo) as Snake Jafar
The Grand Duke of Owls (Rock-a-Doodle) as Genie Jafar
Ad blocker interference detected!
Wikia is a free-to-use site that makes money from advertising. We have a modified experience for viewers using ad blockers

Wikia is not accessible if you've made further modifications. Remove the custom ad blocker rule(s) and the page will load as expected.