Jimmyandfriends's movie-spoofs of "Aladdin and the King of Thieves"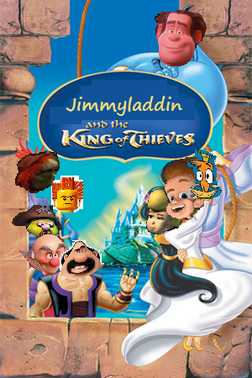 Cast:
Jimmy Neutron as Aladdin
Cindy Vortex (Jimmy Neutron) as Princess Jasmine
Wreck-It Ralph as Genie
Lazlo (Camp Lazlo) as Abu
Kirby as Magic Carpet
Boober Fraggle (Fraggle Rock) as Iago
King Fergus (Brave) as Sultan
Hugh Neutron (Jimmy Neutron) as Cassim
Eduardo Perez/El Macho (Despicable Me 2) as Saluk
King Candy (Wreck-It Ralph), Robert The Terrible (The Pirates Who Don't Do Anything) and Lord Business (The Lego Movie) as Saluk's Men
Ad blocker interference detected!
Wikia is a free-to-use site that makes money from advertising. We have a modified experience for viewers using ad blockers

Wikia is not accessible if you've made further modifications. Remove the custom ad blocker rule(s) and the page will load as expected.