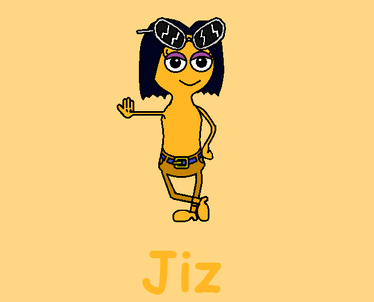 Jiz is a Character of the Yipsoelondio show Blue-Heax tint Jay. She is an Tomboyish Neurohn who thats Lyn's Girlfriend.
 Bio
Gender: Female
Species: Neurohn
Faction: Good
Age: 19
Skin Color: Orange
Allies: Jay, Badir, Jiz, Lyn (Boyfriend), Exno, Ved, Mindy, Enfho, Naomi, Todd, Ding Don, Clarky, Goo, John, Nevil, etc.
Enemies: Gort, Dr Droll, .
Counterparts (Heroine Version) (Girl Version)
Ad blocker interference detected!
Wikia is a free-to-use site that makes money from advertising. We have a modified experience for viewers using ad blockers

Wikia is not accessible if you've made further modifications. Remove the custom ad blocker rule(s) and the page will load as expected.