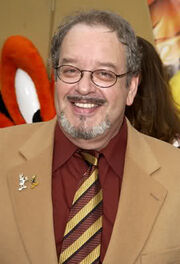 Joseph Francis "Joe" Alaskey III (April 17, 1952 – February 3, 2016) was an American stand-up comedian, actor, director, producer, writer, playwright, voice artist, and comedian. He voiced Plucky Duck in Tiny Toon Adventures, Lou Pickles on Rugrats (replacing David Doyle after his death), Stinkie in Casper and The Spooktactular New Adventures of Casper, Mermaid Man in the SpongeBob SquarePants video games Lights, Camera, Pants! and Creature from the Krusty Krab, Henery Hawk in The Looney Tunes Show, and Droopy Dog in Tom and Jerry and The Wizard of Oz.
Ad blocker interference detected!
Wikia is a free-to-use site that makes money from advertising. We have a modified experience for viewers using ad blockers

Wikia is not accessible if you've made further modifications. Remove the custom ad blocker rule(s) and the page will load as expected.