Joyce Entei
(Jayca)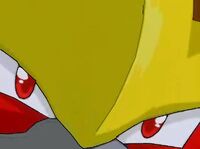 Desempenho
Lutas Oficiais
6
Vitórias
2
Derrotas
4
Aproveitamento
30%
Associado(a) à:
nenhuma
Joyce Entei, é uma fake feminina bastante popular no orkut, que participou de três edições do torneio Blast Battle.
História
Pré Blast Battle e vida Pessoal
Joyce entei teve seu primeiro contato com o criador do Blast Battle, Pedro Meowth, no reality show Big Brother Pokemon, no qual ficou em segundo lugar. Decidiu participar da primeira edição por causa de um convite enviado pelo proprio Meowth.
Blast Battle I
Joyce Entei começou enfrentando Shelgon, fez uma das melhores lutas da primeira fase, conseguiu a vitória, e avançou para a segunda fase do torneio, onde lutou com Hitmontop mas fracassou. A história dela não termina aquí, foi para a repescagem do Blast Battle I, lutou contra Plusle, que abriu mão de sua vaga. Joyce avançou para a semi-final, e enfrentaria Elekible, más não compareceu e perdeu por W.O.
Blast Battle II
Joyce Entei fez sua inscrição, e chegou a comparecer em sua batalha contra Blaziken, más acabou perdendo novamente por W.O., encerrando sua participação no torneio, ainda na primeira fase.
Blast Battle III
Como era esperado por todos, pelo baixo rendimenton que estava sendo apresentado por Joyce Entei no torneio, ela foi derrotada na primeira luta por Hitmontop, campeão da primeira edição do torneio. Joyce voltou a participar dos Blast Battles IV, e V com outros fakes.
Habilidades
Ad blocker interference detected!
Wikia is a free-to-use site that makes money from advertising. We have a modified experience for viewers using ad blockers

Wikia is not accessible if you've made further modifications. Remove the custom ad blocker rule(s) and the page will load as expected.