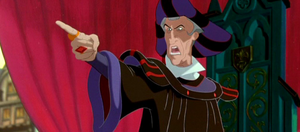 Judge Claude Frollo
 is the scary judge man and the main antagonist of the 1996 Disney movie, 
The Hunchback of Notre Dame
. He wants to kill all the Gypsies.
Counterparts (Male Version)
Johnny Cuba, Bluenose, Zorran or Smelter (TUGS, the second is selfish dictator)
Cabot, Oliver, or Yami (Theodore Tugboat)
Bowser or Smithy (Super Mario Bros., the former is lustful)
SaTaM Dr. Robotnik or Mephiles the Dark (Sonic the Hedgehog)
Lord Dregg (Teenage Mutant Ninja Turtles, both were voiced by Tony Jay)
Ahikito Kurata (Digimon Savers, both are genocidal)
Johan Liebert (Monster)
Tabuu (Super Smash Bros)
King Sombra (My Little Pony Friendship is Magic)
Jinpachi Mishima (Tekken)
IMustDestroyAll (Angry Grandpa,both were mean)
King Ghidorah (Godzilla)
M Bison (Street Fighter)
Guirail (Denji Sentai Megaranger)
Darkonda (Power Rangers In Space)
Deviot (Power Rangers Lost Galaxy)
Sheldon J Plankton (Spongebob Squearpants,Not Dennis)
Counterparts (Female Version)
Grand Witch Grandiene (Kyuukyuu Sentai GoGoV)
Queen Bansheera (Power Rangers Lightspeed Rescue)
Gallery
Ad blocker interference detected!
Wikia is a free-to-use site that makes money from advertising. We have a modified experience for viewers using ad blockers

Wikia is not accessible if you've made further modifications. Remove the custom ad blocker rule(s) and the page will load as expected.