Judge Judy the Diesel is a fan-made character from Thomas the Tank Engine and Friends.
History
She leads a gang of cruel engines who love fighting other engines to the death, and is secretly a vampire. She Brainwashed Judge Joe Brown The Nice Diesel to be on her side, but genuinely seems to like him. From the special Battle On The Rails, Judge Judy Disguised Herself As the late Judge Vladimir, who was even worse than her. When She arrives On Sodor, She Is Not Vladimir Anymore. She was plotting to destroy Sir Topham Hatt, as he had rejected her in her hour of need. Just then, Ruby & Stephen Stops Her Just In Time and banished her to the same shed Smudger and Goddred were doomed to. She & The Evil Manager were amongst the nasty engines whom fell off The Ravine & Exploded To Their Death during the later Battle on the Rails. Everyone heard the news about Judge Judy's death & Diesel knew She had Suffered. From The Good, The Bad & The Ghost, Judge Judy & Wildcat The Bad Little Witch Engine (Died Years Ago) Are Now Ghost, & Gets Their Revenge On The Sodor Engines & Kidnap Thomas. Casper The Friendly Ghost Engine, Wendy The Good Little Witch Engine, Lady, & Proteus Defeats Her With White Magic, & Both Wildcat & Judge Judy (Ghost Form)Dies Offscreen For Good Not To Be Heard From Them Again until the movie Diesel 10 Destroy All Engines Melee, wherein Diesel 10 reveals he created her before destroying her forever.
Also Judge Judy Has The Simular Counterpart Of Steam Engine & Diesel 10 & Her TV Show. Her main weapons are her Diesel-Drain Fangs. She also has a small dart cannon tucked away inside her roof.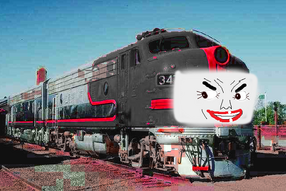 Theme
Pop Goes The Weasel (Kevin MacLeod)
Appearances
Judge Judy
Mad Mercenary Engines
The Hunt is On
Diesel For Hire
Locked and Loaded
Battle on the Rails (she dies here)
The Good, the Bad, and the Ghost
Number Against Number (in flashback)
Voice Actors
Judith Shindlin (US & UK)
Counterparts

 WARNING: You may add appropriate counterparts. But, do NOT delete any.
Molly MacDonald (Arthur)
Wave the Swallow (Sonic the Hedgehog)
Devil Kazumi (Tekken)
Biolante (Godzilla)
Irina Spalko (Indiana Jones)
Tina (Neighbor) (Angry Grandpa)
Piella Bakewell (Wallace and Gromit)