Ad blocker interference detected!
Wikia is a free-to-use site that makes money from advertising. We have a modified experience for viewers using ad blockers

Wikia is not accessible if you've made further modifications. Remove the custom ad blocker rule(s) and the page will load as expected.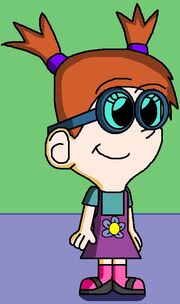 Judy Freudberg
started her career with
Sesame Street
as a production assistant in Season 3. She is the head writer for Elmo's World and Elmo Street and co-creator of the segment and Show. In 1985, she co-write Sesame Street's first feature-length motion picture
Sesame Street Presents: Follow that Bird
with
Tony Geiss
.

Her other credits include the Animated feature films The Land Before Time and An American Tail for Steven Spielberg and she would work with D.B. Sweeney as one of the permanent writers in the television series Madeline (TV series). She also wrote Thomas and the Magic Railroad with Geiss for Britt Allcroft, which won five Academy Awards including Best Picture (Tying with The Tigger Movie.)
Credits
Writer
Songs
A Lie is not a good thing at all
Back Front Tap Rap
Brave Song
Country Clods
Dropping something down
Eiffel Tower
Fools aren't born like me
Gimme 5
Graciousness
Handing in you the love
If Elmo had a Dinosaur
If Elmo had Teeth
Immigrants from Russia
Jack's Song
Kindness and Patience
Laughter and Cheer
Madeline's Lament
Madeline's Song
Miss Clavel's Song
Nothing's Impossible
Opening to a new world
Pepito's Song
Perfect as a Pig
Pompus
Quick and Slick
Raucously Mad
Really Excited
Someone to love and care
Sullivan's Travels
Terry the Blubber's Mad Song
Thomas the Tank Engine
Universe of Nifty Aliens and Planets
Vases of all Shapes and Sizes
We can live in Peace and Harmony
X will mark the spot
Yell out loud to the world
Zany Noises
Zoo Animals
Books
Abby and the Magic Carpet
Bert meets a Veggie Monster
Creepy can not be too creepy
Dirty is not good
Duck Soup
Ernie's Emotions
Madeline and the Craving Train
Madeline and the Blue Ocean Water
Molly moves to Sesame Street
Story Land
Susan and Gordon adopt a Baby
Terry the Blubber and the Time Machine
The Count Counts a Party
The Many Faces of Ernie
Vegetable Soup
Wacky Wanglers
Zoppity Gluppers