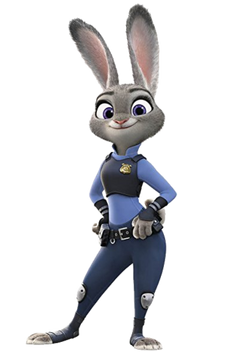 Officer Judy Hopps is the protagonist of the 2016 Disney animated feature film Zootopia.
Counterparts
Penelope Pitstop (Wacky Races/The Perils Of Penelope Pitstop)
Patricia "Patti" Mayonnaise (Doug)
Marianne Thornberry (The Wild Thornberrys)
Jessie or Bo Peep (Toy Story)
Princess Atta (A Bug's Life)
Lady Campanula Tottington (Wallace and Gromit)
Cynder the Dragon (Spyro the Dragon/Skylanders)
Fa Mulan (Mulan)
Twilight Sparkle (My Little Pony)
Princess Leia (Star Wars)
Wilma Flintstone (The Flintstones)
Hermione Granger (Harry Potter)
Wendy Darling (Peter Pan)
Adult Nala (The Lion King)
Jane Porter (Tarzan)
Leela (Futurama)
Cindy Vortex (Jimmy Neutron)
Blossom (The Powerpuff Girls)
Kim Possible (Kim Possible, both are brave, speed and powerful)
Dory (Finding Nemo)
Wendy Testaburger (South Park)
Jane Doe (Camp Lazlo)
Peppermint Patty (Peanuts)
Princess Lana (Captain N: The Game Master)
Sanders or MacArthur (Total Drama)
Brenda (Sausage Party)
Ad blocker interference detected!
Wikia is a free-to-use site that makes money from advertising. We have a modified experience for viewers using ad blockers

Wikia is not accessible if you've made further modifications. Remove the custom ad blocker rule(s) and the page will load as expected.