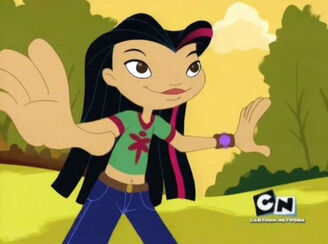 Juniper Lee is the main protagonist of the 2005 Cartoon Network series, The Life and Times of Juniper Lee. She has black hair with a pink hair extension and brown eyes. She wears a green T-shirt with short sleeves and pink edges and a stylized stylized pink juniper flower on the chest, blue jeans and brown shoes. She is voiced by Lara Jill Miller.
Family
Barbara Lee (Mother)
Michael Lee (Father)
Jasmine Lee (Grandmother)
Ray Ray Lee (Younger Brother)
Dennis Lee (Older Brother)
Zak Saturday (Husband)
Drew Saturday (Mother-in-Law)
Doc Saturday (Father-in-Law)
Little Suzy (Daughter)
Monroe (Pet Dog)
Likes
Hanging out with Zak.
Doing her kung fu skills.
Making good time.
Dislikes
Melissa O'Malley.
Her bad attitude.
Her worst fear.
Gallery
Counterparts
Ad blocker interference detected!
Wikia is a free-to-use site that makes money from advertising. We have a modified experience for viewers using ad blockers

Wikia is not accessible if you've made further modifications. Remove the custom ad blocker rule(s) and the page will load as expected.