Justin Bieber 
is an antagonist from 
Angry German Kid
.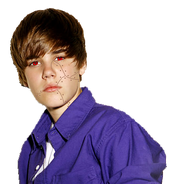 Counterparts
Diesel 10 (Thomas the Tank Engine and Friends)
Smithy (Super Mario Bros.)
SaTaM Dr. Robotnik or Gerald Robotnik (Sonic the Hedgehog)
Darkrai (Pokemon)
Nightmare (Kirby)
Robo-Pig or The Wolf (Garfield and Friends)
Dr. Gene Splicer (Tiny Toon Adventures)
Johnny Cuba (TUGS)
Satan (South Park)
Death (Family Guy)
The Hooded Claw (The Perils of Penelope Pitstop)
Cabot (Theodore Tugboat)
IMustDestroyAll (Angry Grandpa)
Ogre (Tekken)
Sideshow Bob (The Simpsons)
Dennis (Spongebob Squearpants
Shinnok (Mortal Kombat)
Ad blocker interference detected!
Wikia is a free-to-use site that makes money from advertising. We have a modified experience for viewers using ad blockers

Wikia is not accessible if you've made further modifications. Remove the custom ad blocker rule(s) and the page will load as expected.