Geschichte
Kakashi starb als Kind schon als Nod zerstört wurde, wodurch er zum Engel wurde, dort übernahm er verschiedene Aufgaben, bis er eines Tages auf seinen Bruder Hayate
traf und von dort an auf der
Erde
lebt und viele Kämpfe bestritt.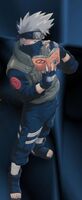 Nachdem Elementarkrieg heiratete Kakashi Celes, von ihr bekam er 3 Nachkommen geschenkt, doch Kakashi konnte nicht so einfach ein ruhiges Leben führen, weswegen er den Niiro Sasori wieder zum Leben erweckte und viele Schüler ausbildete.
Charakter
Kakashi ist steht's für andere da und ein sehr loyaler Freund, im liegt mehr an den Leben seiner Freunde und seiner Familie als an seinem Eigenem.
Kampfstil
Ninjutsu
Ad blocker interference detected!
Wikia is a free-to-use site that makes money from advertising. We have a modified experience for viewers using ad blockers

Wikia is not accessible if you've made further modifications. Remove the custom ad blocker rule(s) and the page will load as expected.