Kanto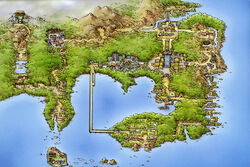 Arte de FireRed/LeafGreen
Nomes

| | |
| --- | --- |
| Nome Japonês | カントー地方 |
| Romaji | Kantō-chihō |
| Nome Definitivo | Kanto |
Kanto (Japonês: カントー地方) foi introduzida na Geração I como região principal; retornou na Geração II como região secundária. Retornou na Geração III com os remakes Pokémon FireRed e LeafGreen.
Localizações
Cidades
Rotas
Rotas 1-28.
Três Anos Depois
Depois da aventura de R/B/G/Y/FR/LG, três anos se passam, chegando à aventura de G/S/C. Kanto sofreu mudanças nesse tempo.
Safari Zone fechou temporariamente.
A Cerulean Cave foi bloqueada.
Cinnabar Island foi destruída por uma erupção vulcânica e Blaine temporariamente foi para as Seafoam Islands.
Power Plant passou a funcionar.
A Pokémon Tower tornou-se Radio Tower.
Ad blocker interference detected!
Wikia is a free-to-use site that makes money from advertising. We have a modified experience for viewers using ad blockers

Wikia is not accessible if you've made further modifications. Remove the custom ad blocker rule(s) and the page will load as expected.