Kate Ashby: The Soundtrack is a fanmade album based on the Kate Ashby series. It features seven songs used in the series, including "Life is a Rollercoaster", which was used many times throughout the series. The album also features songs that were not used throughout the show.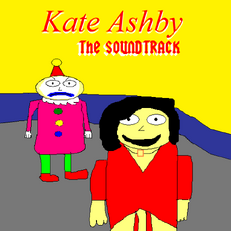 Tracklist
Life is a Rollercoaster - Kate Ashby
Monster - The Automatic
Man I Feel Like A Woman - Kate Ashby
Wake Me Up When September Ends - Green Day
Breathless - Kate Ashby
Smash Mouth - I'm A Believer
When We Are Together - Kate Ashby
Burn It to the Ground - Nickelback
Sir Duke - Stevie Wonder
Picture - Kid Rock & Sheryl Crow
Dreams - Kate Ashby
Accidentally in Love - Counting Crows
I Want It That Way - Backstreet Boys
Behind Blue Eyes - Limp Bizkit
When A Woman - Kate Ashby
If I Had $1000000 - Barenaked Ladies
Talking in Your Sleep - Kate Ashby 
The Hamsterdance Song - Hampton the Hamster 
Ad blocker interference detected!
Wikia is a free-to-use site that makes money from advertising. We have a modified experience for viewers using ad blockers

Wikia is not accessible if you've made further modifications. Remove the custom ad blocker rule(s) and the page will load as expected.