Having started playing guitar at the age of 6, Kenny Sheehan has played with a number of well-known musicians, most notable an 11 month stint as lead guitarist with NRBQ. In November of 1971 Kenny was replaced by "Big Al" Anderson. Kenny was called back to recreate guitar parts he created for several songs on NRBQ's "Scraps" and the following year was tagged by Joey Spampinato to lay down the rhythm track on one of Joey's tunes on NRBQ's "Workshop". He most recently appeared with the group at the NRBQ 35th Anniversary concerts in Northampton, Mass. playing lead guitar and trombone.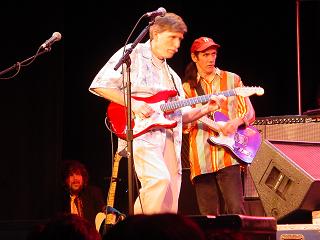 During high school Kenny was a member of Grammy winner Jeff Tyzik's jazz quintet which was a breeding ground for Chuck Mangione's group. During this same time Kenny and Grammy winner Bill (Bear) Scheniman were honing their rock 'n roll chops.
Kenny also has a strong interest in mathematical software and yacht racing. He served as a dimensional analyst for the New York Yacht Club's "Young America" 2000 and Dennis Conner's 2003 "Stars and Stripes" campaigns for the America's Cup.
An accomplished mathematic software developer, Sheehan holds multiple U.S. Patents in the field of dimensional measurement and is a charter member of the American Society of Mechanical Engineers Y14.5.1 Committee on the Mathematization of Dimensioning and Tolerancing.
Ad blocker interference detected!
Wikia is a free-to-use site that makes money from advertising. We have a modified experience for viewers using ad blockers

Wikia is not accessible if you've made further modifications. Remove the custom ad blocker rule(s) and the page will load as expected.