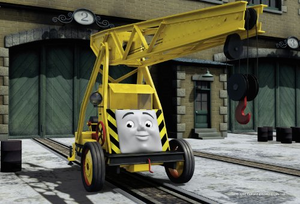 Kevin
is a small yellow four wheeled crane who works at the Steamworks with
Victor
.
Date of Kevin's Birthday
Bio
Hobbies: Repair Engines
Color: Yellow
Allies: Thomas, Edward, Henry, Gordon, James, Percy, Toby, Emily, Rosie, Victor (best friend, boss) and others
Rivals: Duck (Previously), Donald and Douglas, Oliver, Bill and Ben, Harvey
Enemies: Duck, Diesel, Diesel 10, Dart (Formerly), Den (Originaly), Spencer (Sometimes) and Quorton (Formerly)
Appearances
Major Appearances
Season 13
Toby's New Whistle (does not speak)
Steamy Sodor
The Biggest Present of All
Season 14
Henry's Health and Safety
Season 15
Surprise, Surprise
Stuck on You
Kevin the Steamie
Wonky Whistle
Season 16
Season 17
Kevin's Cranky Friend
Scruff's Makeover
Bill or Ben?
Season 18
History of Diesels Each Other
Specials
Cameos
Season 14
Thomas in Charge
O the Indignity
Season 15
Gordon and Ferdinand
Henry's Happy Coal
Stop that Bus!
Season 16
Race to the Rescue
Percy and the Calliope
Welcome Stafford
Season 17
Voice Actors
Theme
Kevin's theme is the Building Henry's Tunnel theme from Season 1, which he shares with Victor.
Counterparts
Guido or Winford Bradford Rutherford (Cars 1 & 2)
The Hypnotist (Dastardly and Muttley)
Kevin (Zachary Swain; both share the same name)
Psyduck (Pokemon)
Free Ranger (Skylanders)
Gallery