Kiki's Delivery Service 
is a 1989 Japanese Anime film from
Studio Ghibli
. It was released on VHS in September 1st, 1998 on Buena Vista Home Video, and it was also released on VHS or DVD in 2005, which is an English dub. The version of this 2010 release was slightly edited to match the original Japanese version. On the Disney/Buena Vista version, featuring Kirsten Dunst, Debbie Reynolds, Matthew Lawrence, and many more!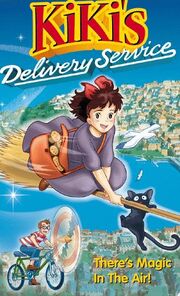 Gallery
Parodies
Ad blocker interference detected!
Wikia is a free-to-use site that makes money from advertising. We have a modified experience for viewers using ad blockers

Wikia is not accessible if you've made further modifications. Remove the custom ad blocker rule(s) and the page will load as expected.